We are excited to receive a review copy of Rock 'N Learn's latest release Sight Words.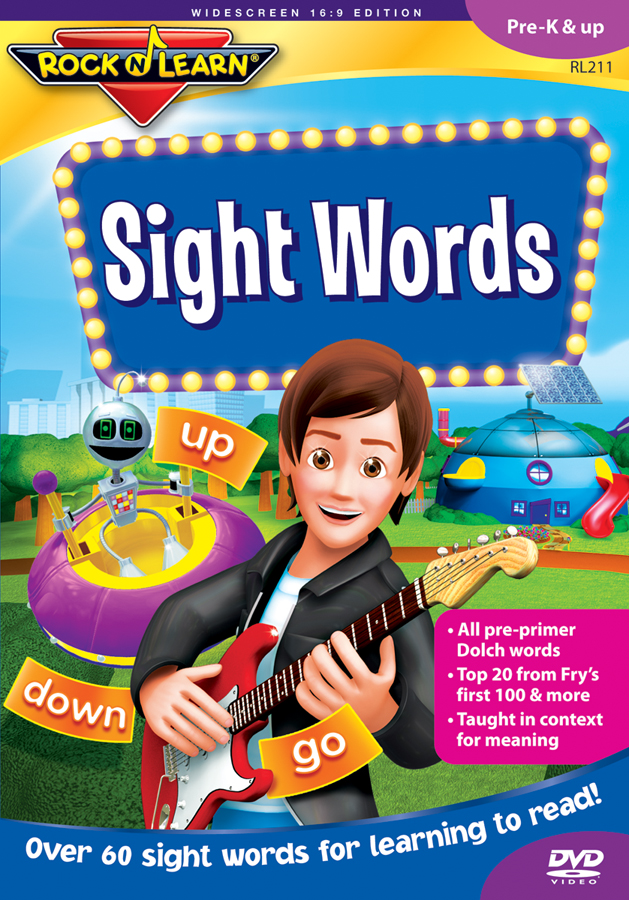 Details …
Sight Words, a new DVD program from Rock 'N Learn, helps kids learn to read. Using fun music and exciting characters, kids learn to read over 60 words. These are the most common words used in the English language and are words kids need to know automatically. This program is perfect for parents with very young kids who appear advanced and eager to learn, as well as older students with remedial needs. It's effective at helping kids learn to read at all ages. Developed along with four reading specialists having combined classroom experience of over 50 years, Rock 'N Learn Sight Words is designed to hold the interest of kids and get results. A bonus section helps kids practice their spelling skills and focus on the shapes of words. The program engages kids to participate along with the fun characters. Approximately 50 minutes in length, it's most effective when kids watch again and again. Before too long, they are reading the sight words with ease.
My Thoughts …
It can be pretty hard to find educational videos that can fully capture the attention of my kids.  While my oldest is starting Kindergarten in the fall and expecting her to learn sight words over the summer may be a little "pie in the sky," she definitely gets some exposure to the idea of reading and putting letters into combinations that are not the ABC song.  The video does a great job of putting words into action.  That association between the written word and a tangible action or concrete object really help kids begin to understand the meanings of words rather than just the sounds.  Most importantly, my kids want to watch!  They will ask to turn off the Disney channel so that they can watch their "reading video."  It's hard to find a greater testimony than that.  They are learning, but they are having fun doing it!
You can buy this DVD for $17.99 right now at Amazon!
NOTE: We were sent a copy of this DVD in support of this review. No other compensation was received. All thoughts and opinions expressed in this review are my own.