Friday Favorites is another almost weekly feature here at Simply Budgeted. The whole point of this feature is to share some of our favorite finds. Anything is game. Food. Cleaning supplies. Kid stuff. Garden favorites. Recipes. Anything that I really like and want to randomly post about. Reminder/Disclaimer/Whatever: Everything in Friday Favorites is something that we use and bought on our own.
Up this week …
GE LED Leaves CoverLite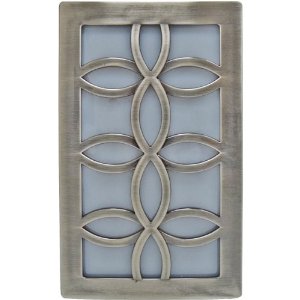 Details …
The GE 11257 Leaves CoverLiteTM LED Auto On/Off Night Light covers unsightly wall outlets with this energy-efficient LED night light and use just pennies worth of electricity per year. Provide a unique way to add style into your home.
Our Thoughts …
We bought these at Sam's Club the other day. They came in a three pack there but you can buy singles too it seems! We have been leaving a light on in the living room every night in case one of the kids makes it down the stairs in the middle of the night. It was a waste of energy but I didn't want anyone to get hurt. We put two of these in the living room and they are great. The third went in the laundry/powder room that has no natural light! The added bonus to these lights is that the cover both plug so we were able to remove some baby safety plug that are less than pretty! 🙂
Oh and they have other cool designs too if the "leaves" design in the picture isn't your style!;) You can find the one pictured and others at Amazon so you don't even have to head to Sam's Club!