It's another Meatless Monday and this time we would like to take an opportunity to review a "new to us" product.  I'm originally from Louisiana and I love, love, love Red Beans and Rice!  Unfortunately, it can take a little while to make and, despite the innocent sounding name, is far from meatless.  So I've put together a nice little dish that is quick, easy, and pretty delicious.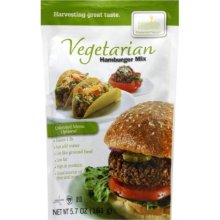 Substituting for the meat you would normally find in a Red Beans and Rice recipe is Harmony Valley's Vegetarian Hamburger Mix.  Normally, we don't look to meat substitutes, passing them right by in the grocery aisles.  However, when we had the chance to try this product, we had to jump on it.  Harmony Valley is a growing company based out of Ft. Collins, CO.  Make it a point to  read their story.  Their Hamburger Mix is a great alternative to beef and is very easy to make.  Just add water to the dry mix, wait 15 minutes, and cook.
My expectations were not very high, but I must say that I was pleasantly surprised with the taste.  I would not say that it tastes like beef (what does?), but I will say that I did not miss the meat one bit.  The mix has a bit of a nutty aftertaste which is pretty nice.  My only critique is that the sodium level is a bit high.  When using it in a recipe, watch the added salt.
Now…on to my "faux " Red Beans and Rice!
Red Beans and Rice
This dish is quick and easy and will fill up the bellies of everyone at the table.  Because the mix is a little salty, make sure you are using low sodium broth.  You can use rice made the previous weekend or use that leftover takeout rice from the Chinese restaurant.
Ingredients
2 T olive oil
1 medium onion, chopped
2 t Easy Seasoning Blend
1 lb prepared Harmony Valley Vegetarian Hamburger Mix
1 15.5 oz can dark red kidney beans
4 C prepared white rice
1 14.5 oz can low sodium vegetable broth
Directions
Cook the onions in the oil over medium-high heat for about 2 minutes before adding the Easy Seasoning Blend.  Cook for another 3-5 minutes until onions are translucent and starting to brown slightly.  Add the hamburger mix and cook for about 5 minutes.  Add beans, rice, and broth.  Mix well to combine, reduce heat, and cover.  Cook covered for about 10 minutes until most of the liquid has been absorbed.  Uncover and allow to cool slightly before serving.
I hope you enjoy this.  Let us know how yours turns out!