Does anyone out there still have as much zucchini as I do?  How about tomatoes?  If so, this will be another quick and easy Meatless Monday.  We serve up some simple zucchini fritters with pre-made marinara sauce.  Serve a few as a nice appetizer or serve a few more with a crunchy side salad for a light summer dinner.
As a bonus:  We made the Simple Marinara Sauce using a Pinot Noir that flipflop wines sent to us for review.  You can find the company's description of the wine here.  Personally, I found the wine very easy to drink.  It was just barely on the dry side (which is nice because I prefer my reds a little drier, but Beth likes them sweeter…we could both drink this).  The wine was not overpowering, which means it would pair well with a number of different dishes.  It is a lovely little sipping wine.  On top of that, the subtle flavors really helped out with the marinara, keeping the focus on the fresh tomatoes, adding just enough of that…."what is that? factor" to accentuate the sauce.
NOTE: We were sent a bottle of this wine  in support of this review.  No other compensation was received.  All thoughts and opinions expressed in this review are my own.
As for the recipes, here they are!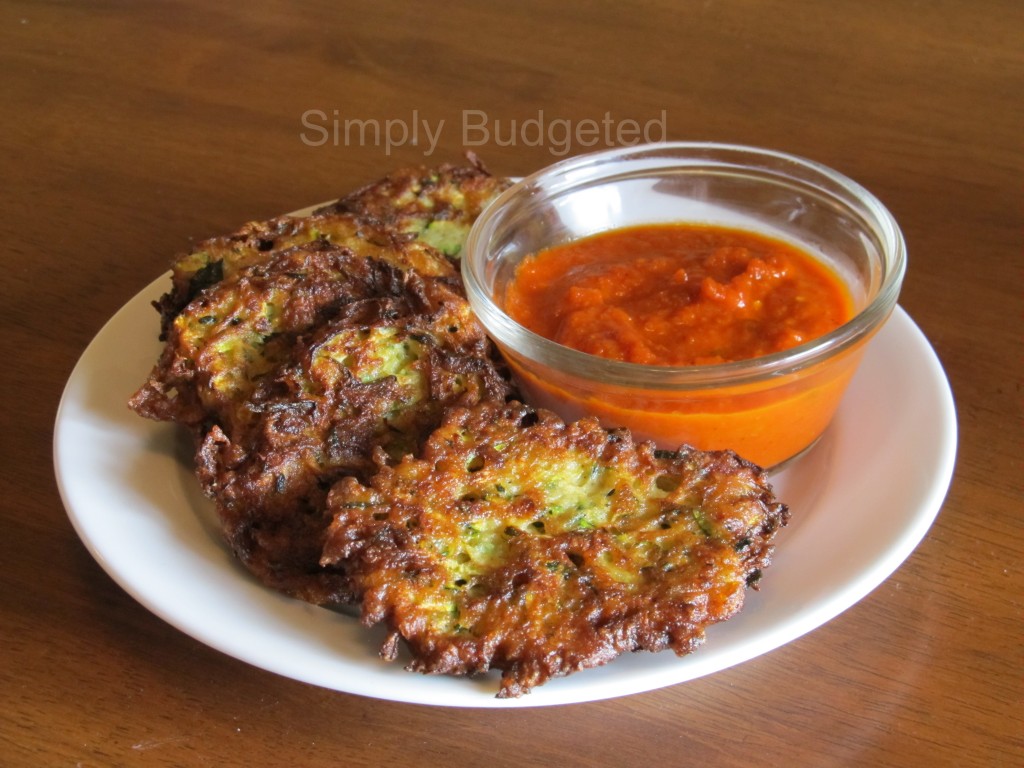 Zucchini Fritters
Crispy with a soft center, these fritters will have you and your kids asking for more zucchini.  Just check out our Sophie chowing down below the recipe!  Serve them with our Simple Marinara Sauce.
Ingredients
4 C shredded zucchini (about 2 medium zucchini)
2 t salt
1 t black pepper
1 t paprika
1 t garlic powder
1 t onion powder
1 large egg
3 T all-purpose flour
canola oil for frying
Directions
Place shredded zucchini into a colander and cover with 1 t salt.  Allow to drain into sink or bowl for about 30 minutes.
After zucchini drains, combine zucchini, remaining salt, and next 6 ingredients in a large bowl.  Heat an inch of oil over medium to medium-high heat.  Place spoonfuls of mixture into the hot oil and cook 3-5 minutes on each side until golden brown.  Drain well before serving.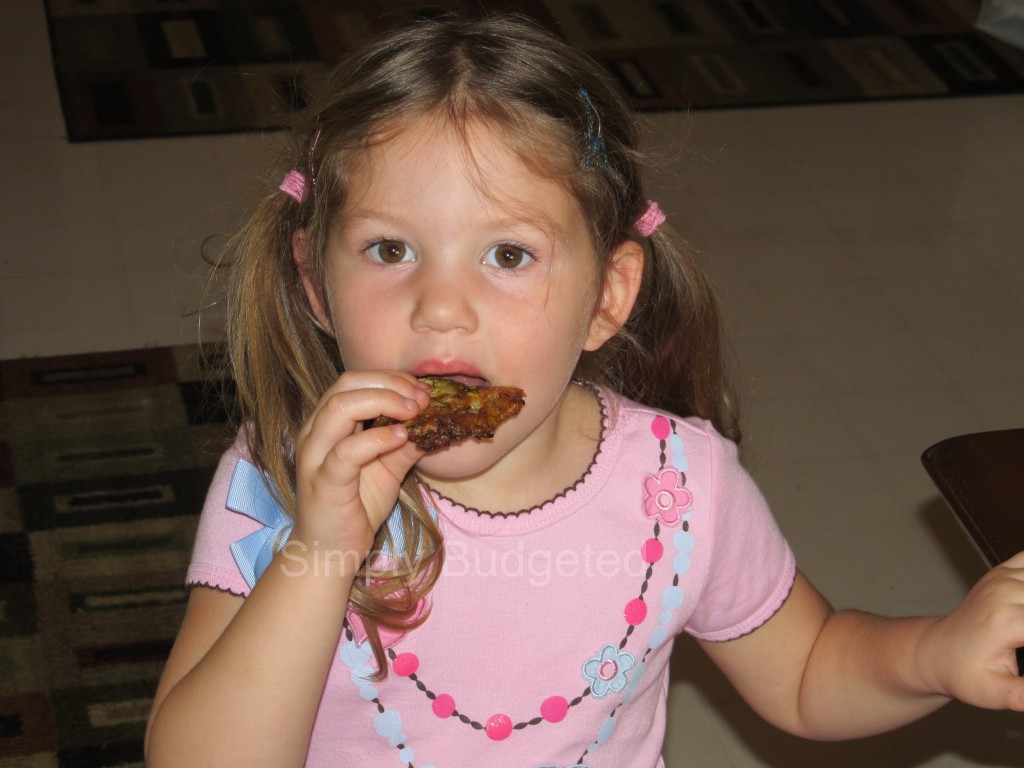 Simple Marinara Sauce
This long cooking sauce is a bit of a time commitment, but is easy to make ahead and only gets better as it sits in the fridge for a couple of days.  Serve with our fritters, with calzones, or on pasta.  YUM!!
Ingredients
2 T olive oil
1 medium onion
2 t garlic powder
3 T fresh herbs (oregano, thyme, etc.)
1/2 C red wine (we used flipflop Pinot Noir)
8 C peeled and seeded tomatoes
salt and pepper to taste
Directions
In large pot, heat olive oil over medium heat.  Cook onions until translucent and just starting to brown, about 5 minutes.  Add garlic and herbs and cook for another 2 minutes.  Add wine, cooking another 2 minutes before adding tomatoes, salt, and pepper.  Cook until bubbling slightly.  Turn heat down to low and allow to simmer for about 2 hours.  Use hand blender or potato masher and blend sauce until desired chunkiness.  Serve warm.