Friday Favorites is another almost weekly feature here at Simply Budgeted. The whole point of this feature is to share some of our favorite finds. Anything is game. Food. Cleaning supplies. Kid stuff. Garden favorites. Recipes. Anything that I really like and want to randomly post about. Reminder/Disclaimer/Whatever: Everything in Friday Favorites is something that we use and bought on our own.
If you have been around you know that I love to bake but I am a lazy baker. If you didn't know that, you do now!
Up this week is my …
HUGE Oatmeal Chocolate Chip Cookie
So I used the Oatmeal Cookie Recipe on the lid of Quaker Quick Oats Oatmeal container … well minus the cinnamon, none of the optional salt, and chocolate chips instead of raisins. You see the other thing about me being a wanna-be-baker is that I just plain don't follow recipes much. It works for me so shhh, it is our secret!
Now I was being lazy and didn't want to stand by the oven making cookies and getting them in and out and cool them and all of that. Remember, I can be a lazy baker! So I decided to make a HUGE cookie. One pan in the oven for 20-25 minutes was way easier for me that afternoon!
To make the HUGE cookie … follow the recipe or don't. Your choice there (I won't tell!) Spray the pizza pan with cooking spray and spread all of the dough out. It will not be perfect nor will it be flat … accept that now. Just get it the edges with no holes and be happy … trust me!
So here is my HUGE cookie right out of the oven. NOTE: that Wilton pizza pan can be used for WAY more than pizzas!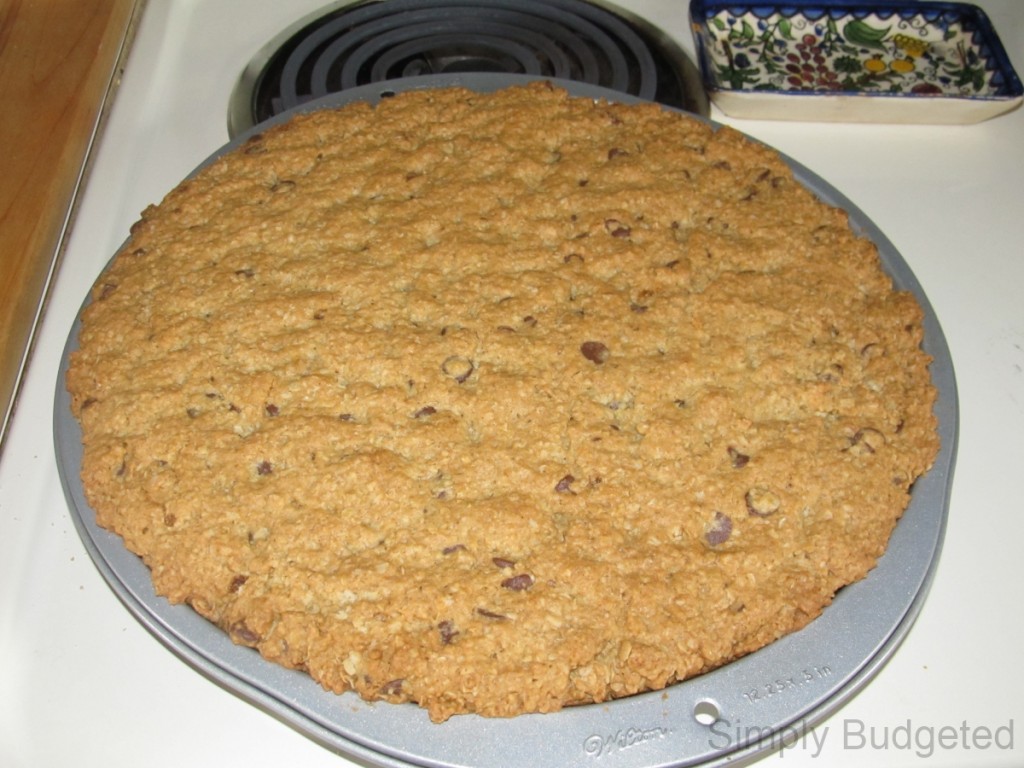 Yes you can see my hand-me down stove in this picture. Bet you didn't know you could have a hand-me down stove. Count yourself lucky. One day a new one will be in the budget!
Here is my HUGE cookie missing pieces because when Grace came in the door she announced "mommy I need a snack … please!" haha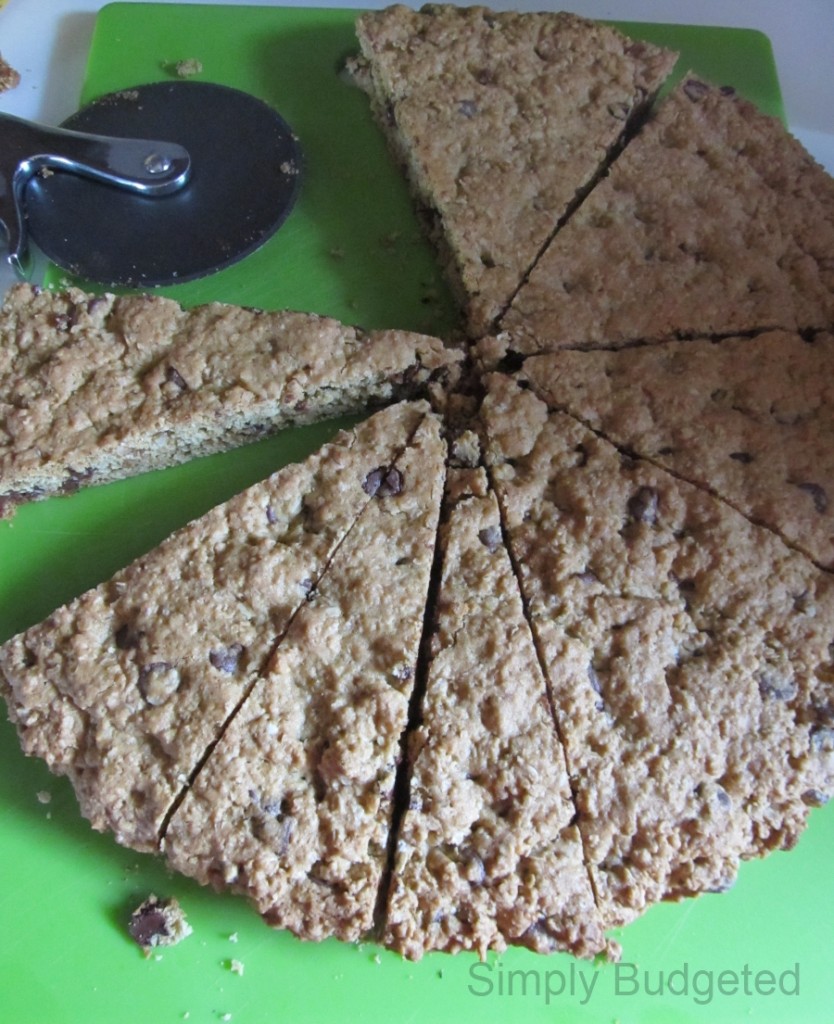 Why did I really make a HUGE cookie? Because I was home to get Grace off the bus that day … a first for me this school year! Brian made her cookies earlier in the week for when she got home as a snack. So I had to show him up in the cookie baking business … well that and the other cookies were already all gone! (You can pick which reason you like better!)