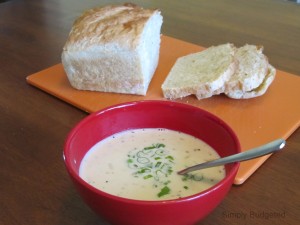 Recently, I signed up with The Daring Kitchen to be a "Daring Cook."  Basically, each month our host cook challenges us to recreate one recipe.  We all create basically the same thing with a few variations allowed, but we all end up with wildly different results.
Peta, of the blog Peta Eats, was our lovely hostess for the Daring Cook's September 2011 challenge, "Stock to Soup to Consommé". We were taught the meaning between the three dishes, how to make a crystal clear Consommé if we so chose to do so, and encouraged to share our own delicious soup recipes!
This challenge was right up my alley for my first time here.  I love, love, love soup.  I make stocks and broths all the time.  I always save ham bones and chicken carcasses in the freezer (seriously, I paid for them!  Why waste?).  For this challenge, I chose to create a corn stock and then use that stock to create a corn chowder.  Just in case you are wondering, yes, I do keep and freeze corn cobs just for the purpose.  If you want to know more about that, check out our post on Freezing Corn.
Corn Stock
This beautiful amber liquid smells like summer.  Use it in soups or risottos to add that little extra bit of comfort when it gets cold outside.  Make sure not to add salt to the stock.  When it reduces, it will be very salty and high in sodium.  Just add it to your final dish using the stock.
Ingredients
1 large onion
3 stalks celery
2 carrots
4 cloves garlic
2 T peppercorns
12 corn cobs
water to cover
Directions
Chop onion, celery, and carrots into large chunks.  Put into a large stockpot with next three ingredients.  Cover with water.
Bring water to a boil.  Reduce heat and simmer 3 hours or until liquid is reduced by half.
Remove and discard the biggest chunks.  Pour liquid through a strainer lined with cheesecloth into another container.  Let cool before refrigerating.  Yield:  about 4 cups
Corn Chowder
This recipe is very fresh and very easy.  If you want to up the ante a little, some bacon, shrimp, or both would go well with this dish.  We served it with a side of freshly baked rosemary bread.  It soaked up the liquid beautifully.  I had the leftovers for lunch the next day in a freshly baked mini-boule.  Unfortunately, I got the better of myself and wolfed it down before I could get a picture.  The corn that I used for this recipe naturally came off of the corn cobs that I used to make the stock above.
Ingredients
2 T olive oil
1 small onion, diced
2 cloves garlic, minced
1/4 C flour
4 C corn stock
2 C heavy cream
1 1/2 C peeled, diced potato
2 C fresh or frozen corn
salt and pepper
sliced green onions (optional)
Directions
Heat oil in a soup pot over medium heat.  Add onion and garlic, cooking until soft, about 10 minutes.  Add flour and stir until well combined.  Cook about 3 minutes.  Add corn stock and bring to a boil.  Add cream and potatoes and boil for 8-10 minutes.  Reduce heat, add corn, and simmer for another 10 minutes.  Ladle into bowls, garnish with green onions, and serve hot with fresh bread!
These two recipes are very simple, healthy, and inexpensive.  They use just a little heavy cream, some fresh produce, and a little time.  I definitely enjoyed my first challenge with The Daring Kitchen.  I look forward to future challenges.  Let me know what you think.