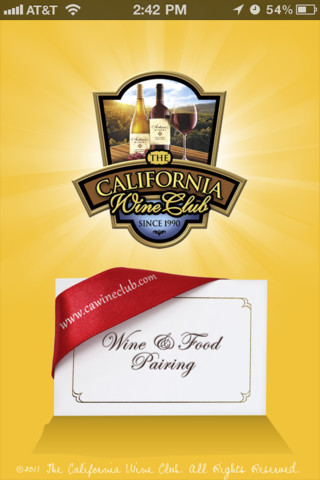 Details …
Do you ever second-guess yourself about which wine will work best with your meal? We're here to help! This fun and convenient food and wine pairing tool can help you pick wines to enjoy with everything from steak to fried Twinkies®. Yum!
Use this app as your personal wine consultant:
•In restaurants, to help you pick the perfect bottle from the wine list to enjoy with your meal.
•In the grocery story, when you are picking up ingredients for your dinner.
•At home, if you need a suggestion for this evening's dinner.
The app is intuitive and user-friendly.
•Simply pick your meal category from the top menu bar.
•Spin the wheel to find your tasty choice.
•See the wines that pair perfectly.
The wine listed in bold type is our top pick to pair with this selection. However, if one of the other suggested wines is more to your taste (or more readily available), rest assured that they will also pair well.
Our Thoughts …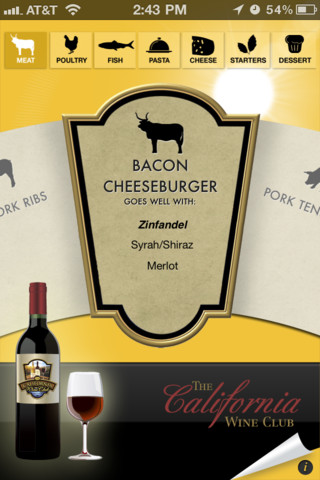 This app is so easy to use … pick your meat type like Beef or meal course and then see what you get. It honestly doesn't get easier than that! This is perfect for me and my lack of wine knowledge. I can read the labels but I am pretty lost minus my dessert wines. I can tell you if it is a good dessert wine by seeing how fruity the description is! LOL
I will add this to my reasons to get an iPhone because I could see myself using this in the grocery store or when I see a wine on sale that I think we must have and wonder when we would ever use it. For now, we will use it at dinner since we have it loaded on the iPad!
So head over and download the app from iTunes HERE right now! I will add this app is free right now so go get it because it might not free forever!
NOTE: I was provided with a review copy of this app to support this honest review. No other compensation was received.