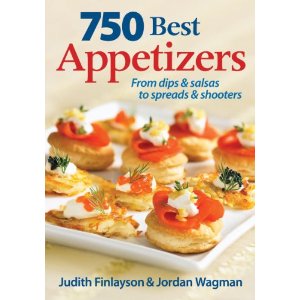 Details …
There are more than 750 recipes to choose from because we've tried to make sure home cooks have a selection to suit every possible occasion — from a dress-down backyard barbecue to the most elegant sit-down dinner. We've also considered the need to satisfy a variety of dietary preferences, from strictest vegans to wide-ranging omnivores. And since we know busy families are probably doing lots of things at once, many recipes can be prepared ahead of time or, if so inclined, made in a slow cooker while busy doing something else.
The book is structured to cover a broad range of options. There are 16 chapters built around specific types of dishes, such as dips and spreads, or specific ingredients, such as fish and seafood or cheese. We've also categorized by presentation since it's such an integral component to appetizers, so chapters are organized by categories, such as "Wraps and Rolls" and "Sticks and Picks."
Our Thoughts …
This book is full of ideas. If you are planning a Thanksgiving event, Christmas dinner, or just a holiday party, this book would be a great place to start. Maybe the Zucchini Hummus or Chive and Navy Bean Dip would be great to add to your next event. I think the Honey Mustard Dip might show up on our menu soon for a weekend football watching meal!;)
Amazon has a great deal on this book as we head into the holiday season!
We are excited to announce that we have been provided with the opportunity to giveaway one copy of 750 Best Appetizers to one of our readers!
Details:
This drawing will end Tuesday, November 29th at 11:59pm EST. The winner will have 48 hours to reply with their address. You must include your email address in the comment form so you can be contacted if you are a winner! You must complete the Mandatory Entry for the additional entries to count.
This giveaway is open to US residents only!
So how do you enter?
Mandatory Entry: Leave us a comment about when you want to make appetizers!

Additional Entries:
1)
Follow us on Facebook
HERE
. Worth
two entries
so leave two comments here! (Psst … we love comments on Facebook so maybe you can leave us one!)
3) Tweet about this giveaway with this tweet:
RT #Win a copy of 750 Best Appetizers @simplybudgeted http://bit.ly/uwjlcj ends 11/29 #giveaway #book #cookbook #recipe #cooking
Leave a comment with the URL for your tweet. (One Tweet per day until end of giveaway!!)
4) Follow us publicly through the Google Friends Connect in the footer. Leave a comment with your name that you subscribe with.
5) Subscribe to the daily email here at Simply Budgeted. It is at the top of the sidebar!;) Please leave a comment. (worth 5 entries!)

NOTE: We were sent a review copy of this book in support of this review. No other compensation was received. All thoughts and opinions expressed in this review are our honest opinion.