We don't post a lot of deals here but when we saw this one today, we had to share! Mamapedia Deals is a great deal site (yes, the widget is in our sidebar!) We LOVE Cooking Light at our house. We both look through this magazine each month and look for ideas.
They have a deal that is active for 5 days but is limited in supply. It is a Cooking Light TWO YEAR subscription and a Recipe Booklet  for only $15! You save 88% with this deal!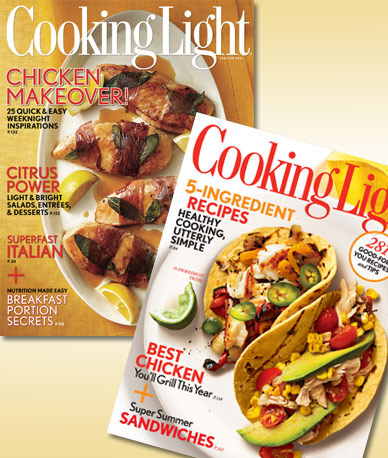 Highlights
Eat healthier and introduce the kids to new foods
Packed with useful cooking tools, tips, and techniques
Fun, easy holiday recipes and entertaining ideas
BONUS: Mamasource customers will receive the Best of SuperFast, a 10-page downloadable recipe booklet featuring their favorite 20-minute meals
Details
12 issues per year; 24 issues total
Magazine will be mailed to the address provided at checkout on Mamasource
Subscription will be sent to you within 8-10 weeks
Valid for new, renewal, or gift subscriptions; US only
Limit (1) voucher per household
Offer valid November 10-15, 2011 only
Address changes may be submitted to Mamasource by Midnight, November 16, no further changes may be made after that
Check Mamapedia Deals for the fine print!
This would be a great Christmas idea for a family member or to get yourself on the eating healthy track. Magazine subscriptions are a great gift that keep giving! I will buy the current issue at the store and print something that says they have a subscription coming for whatever amount of time.
So head over to Mamapedia Deals and grab this deal while it is there!
Oh and while you are there, pick a school to support too! They get 5%! If you don't have a school to support, we suggest Greene County Primary School in Stanardsville, VA!