Polenta is a pretty basic dish.  It's just another starch like mashed potatoes, rice, or pasta.  Polenta is most closely related to grits.  I grew up not liking grits because they can be so…well, gritty.  When done correctly, polenta can be a little mushy and, on it's own, it's not always terribly appealing.  However, if you take a few chances and play with flavors and textures, polenta is a cheap, quick (and fancy sounding) staple to keep in your back pocket.
I messed around with flavors by adding pumpkin puree after it had finished cooking.  A little cream and some freshly grated Parmigiano Reggiano lent the creaminess and some of the saltiness needed.  Topping it with a chunky tomato sauce, some crunchy green onions, and some more freshly grated Parmigiano Reggiano added the textures and contrasts of flavors that made the dish interesting to keep eating.  Every bite could be a different combination of flavors and that idea of playing with your food makes eating so much fun.
For those of you who abhor the idea of meatless or just want something different later in the week, we rewarmed the tomato sauce with a little smoked chicken for a lovely, lovely dish.  Exactly the same ingredients otherwise, but  just adding a little chicken made the dish completely different.  Enjoy!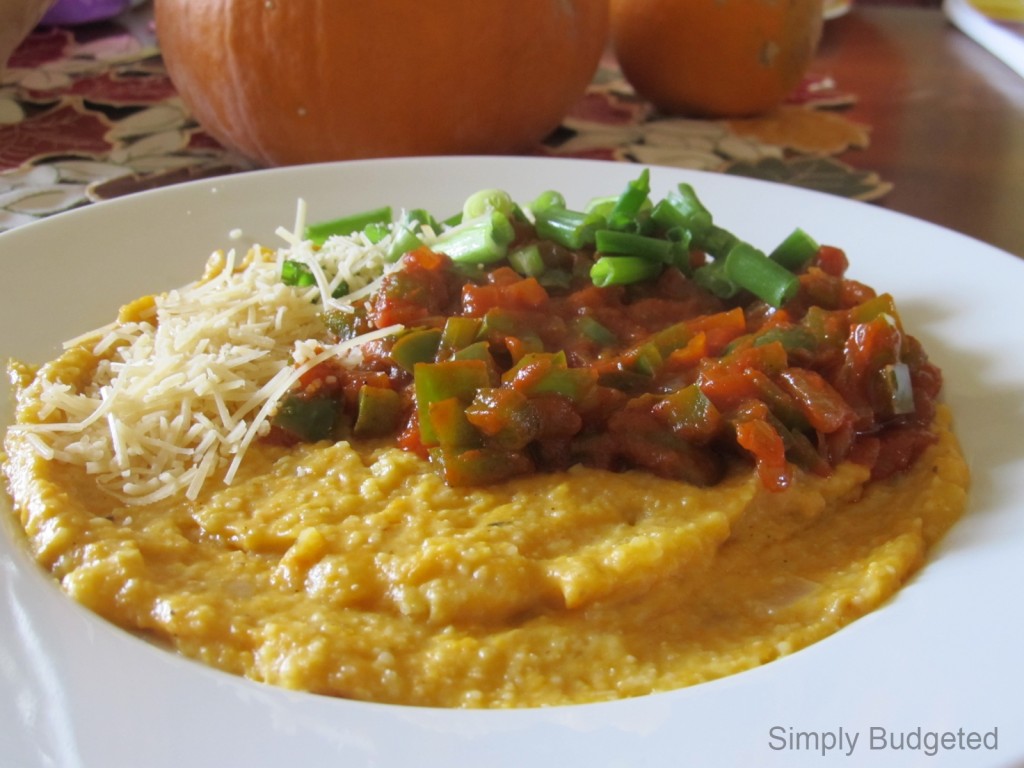 Pumpkin Polenta with Quick Chunky Tomato Sauce
This is a great weekend recipe that can be quickly reheated during the week.  You'll spend a solid half-hour cooking here, but it's a nice easy pace.  Pop open a bottle of wine and enjoy bringing simple, earthy ingredients together to make a sophisticated meal.  The vegetable stock adds a little extra flavor, but water will get you results that your grandma would be proud of.  Serve right away or reheat the leftover polenta in a small skillet for about 3 minutes for a quick weeknight dinner.
Ingredients
4 cups water or low-sodium vegetable stock
1 cup ground yellow cornmeal (the finer the better)
1 tsp salt
2 tsp Italian seasoning
2 cups pureed pumpkin (we usually puree our own, but 1 can would do the trick here)
1/2 cup heavy cream
1/2 cup grated Parmigiano Reggiano cheese
salt and pepper to taste
2 tbsp olive oil
1 medium yellow onion, chopped
2 medium green bell peppers, chopped
salt and pepper
1 6 oz can tomato paste
1/2 cup water
grated Parmigiano Reggiano cheese
chopped green onions
Directions
Bring water or stock to a simmer over medium-high heat.  Reduce heat to low and slowly add cornmeal, stirring constantly for about 5 minutes.  Add salt and Italian seasoning and cover.  Simmer on low for 20-30 minutes, stirring frequently until the polenta is no longer grainy.  (Coarser grinds may take a bit longer, while finer grinds will cook faster)
While polenta is cooking, heat olive oil over medium-high heat.  Add onion and peppers, seasoning with salt and pepper.  Cook for about 5 minutes, stirring frequently, until onion is starting to brown.  Reduce heat to medium and add tomato paste.  Cook for 3-5 minutes stirring paste into the vegetables.  Add water and stir well to form a sauce.  Allow to simmer on low, adding water as necessary to keep the right consistency.
When polenta is no longer grainy, add pumpkin, cream, and cheese and combine well.  Season with salt and pepper to taste.
To serve, spoon a generous helping of polenta onto a plate or into a bowl.  Top 1/4 of the polenta with sauce, 1/4 with green onions, and sprinkle cheese over a portion.  Play with the ratios to get the best mix for you and yours.  Enjoy!
How was your Meatless Monday?  Does this look like something that your family would eat?  Leave us a comment and tell us how you would make it your own.