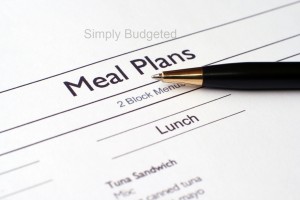 Our Monthly Meal Plan has kind of become a staple of our budgeting process.  Rather than planning for meals from week to week, we put in a little extra time and effort and knock it out right away.  It takes a little discipline, but sticking to the plan can keep costs down and lead to a healthier and closer knit family.  Research supports the notion that having dinner as a family has a number of benefits for the kids (http://children.webmd.com/guide/family-dinners-are-important).
Even though we strive to stick to our plan, however, sometimes life just gets in the way and we have to change things up a little.  Don't let that discourage you, though!  I always feel that if I have a plan, I can always adjust it when the need arises.  If I don't have a plan, though, I feel like I am always adjusting and trying to put something together at the last minute.  That's usually not a fun way to be.
This month, we are focusing on cleaning out our freezer.  At the beginning of next year, Beth and I are planning to go on a vegan diet for a couple of months in an effort to kick start our weight loss and fitness goals.  As such, we need to make sure to use up most of the meat in our freezer so that we aren't wasting the money.  The big difference for us this month will be that we will not be replacing that meat when big sales are happening.
December 2011 Monthly Meal Plan
Week 1 (November 27-December 3)
Sunday–Shrimp Scampi w/ Rice Pilaf
Monday–Red Beans and Rice
Tuesday–Turkey Salad
Wednesday–Leftovers
Thursday–Pork Chop Dinner
Friday–Pizza
Saturday–Hot Dogs for the Kids (Beth and I will be at a Christmas Party!)
Week 2 (December 4-December 10)
Sunday–Vegetarian Chili w/ Rice
Monday–Vegetarian Chili w/ Spaghetti
Tuesday–Slow Cooker Chicken and Rice
Wednesday–Slow Cooker Meat Loaf
Thursday–Leftovers
Friday–Tacos
Saturday–Daring Kitchen Meal (Keep a look out for this one)
Week 3 (December 11-December 17)
Sunday–Beef Stroganoff
Monday–Lentil Soup
Tuesday–Steak Dinner
Wednesday–Grilled Cheese w/ Tomato Soup
Thursday–Leftovers
Friday–Spanish Tortilla
Saturday–Carnitas
Week 4 (December 18-December 24)
Sunday–Enchiladas
Monday–Chickpea Curry
Tuesday–Spaghetti Dinner
Wednesday–Carnita Pizza
Thursday–Leftovers
Friday–BLT's w/ French Fries
Saturday–Turkey Dinner
Week 5 (December 25-December 31)
Sunday–CHRISTMAS!!  (Ham Dinner)
Monday–Risotto
Tuesday–Turkey Noodle Soup
Wednesday–Turkey Pot Pie
Thursday–Leftovers
Friday–Quesadillas
Saturday–Appetizers
As always, if you are looking for recipes or answers on monthly meal planning, please leave a comment or email us with your questions.  We can't promise that we will have all of the answers, but we will do our best to find them!  Just send us an email at [email protected].
Have you tried monthly meal planning? How did it go? Any tips or suggestions?