Friday Favorites is another almost weekly feature here at Simply Budgeted. The whole point of this feature is to share some of our favorite finds. Anything is game. Food. Cleaning supplies. Kid stuff. Garden favorites. Recipes. Anything that I really like and want to randomly post about. Reminder/Disclaimer/Whatever: Everything in Friday Favorites is something that we use and bought on our own (or was gifted from family).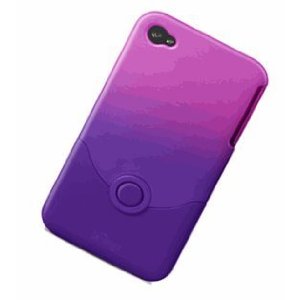 Details …
Protective Hard Plastic Case
Soft Touch Texture
2-Piece hard case with a Soft-Touch" feel and rich metallic finish. Fits snugly around the phone without adding unnecessary bulk. Protects against dings and scratches. Slides easily in and out of a pocket or purse. Bevels around the front so the iPhone screen will not touch any flat surface.
My Thoughts …
This was given to me by my mom for Christmas. We bought our iPhones in November and that was it. It was a huge expense for us but we were so thrilled to have cell phone that weren't seven years old and had service at our house!! I was excited to get this case because now it is super easy to see which phone is mine. It does scream "girl" but that is OK. I can also find it in the dungeon of my purse pretty easily too. I was most concerned with it still fitting in my pocket at work when I carry it to meetings but it fits just about the same. YAY!
This case does come apart in two pieces. It isn't the shell style. Since it comes apart, it does cover the edge of the front more which is actually kinda nice and make it easy to put on the phone.
Amazon has this one and many other cases by iFrogz for sale so check them out!
Do you have an iPhone case? Which one do you have?
Leave me a comment and let me know as I am thinking I might need options in this area at some point!;)