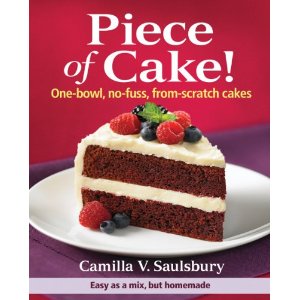 Details …
One-bowl cakes are the forgotten gems in the world of home baking.
Many home bakers believe there are only two options for making cakes at home: 1) commercial cake mixes, or 2) complicated, multi-step recipes developed by professional chefs. But there's another way: one-bowl cakes are all-natural, quick and easy to prepare.
They're as much about what isn't required as what is:
you don't need multiple bowls
you will not need to cream the fat (e.g., butter, shortening or oil) with the sugar
you will not need to separate the eggs
you will not need to alternately add ingredients while simultaneously mixing
you will not need to use cake flour or any other fancy flour
you will not need to sift flour
you do not need to own or use a heavy-duty stand mixer.
You'll be able to create a multitude of cakes everyone loves to eat, from classic layer cakes and Bundt cakes to old-fashioned cakes and modern innovations. The ever-popular lay-flat concealed wire-o hardcover binding, with full color throughout, makes this book even more convenient.
Our Thoughts …
We decided the Lemon Glazed Gingerbread Bundt cake would be great for the after service social tomorrow. I made the cake and left Brian to make the glaze of which he decided to do the Orange Glaze variation but then not follow the directions at all. It is a glaze but not the one in the recipe. He is worse at following recipes than me for sure! We put it in the Christmas Tree Bundt Pan because we have to use the heck out of that pan at this time of the year for the space it takes up year round!;) Here is our end product …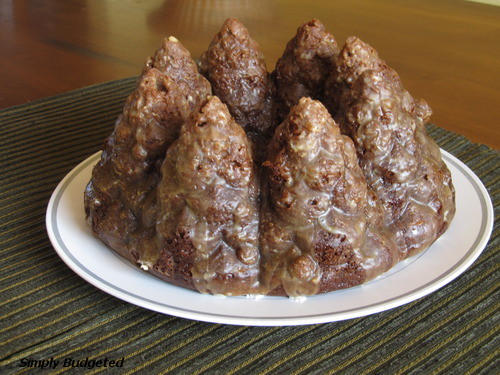 The cake is amazing in flavor. The recipe really is one a one bowl recipe which I LOVE since I hate baking clean up. I also just noticed a vegan and gluten free homemade cake mix recipe in the front of this cookbook. It is always great to have recipes like that on hand for friends and I think I will post a picture of the end product of the vegan recipe in January so watch for it!
This book is available on Amazon and would be a great addition to your cookbook collection if you love keep baking simple like I do!
NOTE: We were sent a copy of this book in support of this review. No other compensation was received. All thoughts and opinions expressed in this review are our honest opinion.