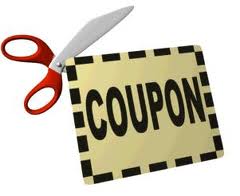 Couponing can be scary … especially if you sit and watch Extreme Couponing. Couponing doesn't have to be extreme. The best couponing is basic, simple, and not a full time job! I love my coupons but I could never get up at 4am to cut them out. That task is set aside for completing when I am watching informative television such as American Idol and House Hunter International. You know you have a favorite show that you could cut coupons during so just admit that you do have time.
Now that you know when you will do this added task, where are you to get the coupons? The two best places for coupons are Sunday newspapers (you can get a Sunday only subscription to most papers!) and online. Many blogs and even company Facebook pages announce when coupons are available. To cut your work down even more, look for sites that pre-match sales and coupons for grocery stores, mall stores, and even everything stores like Target and Walmart!
Now remember coupons aren't just for groceries. Sometimes the inserts have coupons for board games and even online codes for items like sending flowers. For even more online codes, do a quick google search during a commercial break to that show you are watching to find online coupons, grocery coupons, and printable coupons!