Friday Favorites is another almost weekly feature here at Simply Budgeted. The whole point of this feature is to share some of our favorite finds. Anything is game. Food. Cleaning supplies. Kid stuff. Garden favorites. Recipes. Anything that I really like and want to randomly post about.
Reminder/Disclaimer/Whatever: Everything in Friday Favorites is something that we use and bought on our own.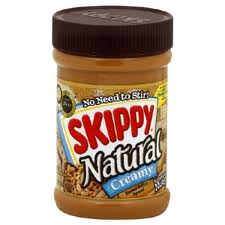 Description …
Ingredients
Roasted Peanuts, Sugar, Palm Oil, Salt.
Skippy natural creamy peanut butter spread is a 100% natural peanut butter spread your kids will love. Great taste comes naturally–spread the great taste of this creamy, delicious peanut butter, and skip the stirring. It has no preservatives, artificial flavors, or colors and creates no oily mess–just the perfect spread for your kids.
Our Thoughts …
We have been eating our vegan detox meal plan this month. I have been missing a lot of my favorite foods (and cookies). I realized early on that peanut butter was ok. My go to snack has been apples with peanut butter. I have gotten to the point where I crave my apples with peanut butter. I have always loved peanut butter anything so that wasn't a challenge for me. Not eating my cookies has been a big challenge though. Thankfully my peanut butter has kept me going!
Amazon has a great deal on a 6 pack right now and it even has a Subscribe and Save option to save even more. (You can sign up and cancel.) (We have been buying the double pack at Sam's Club.)
What is your favorite peanut butter snack? Leave us a comment and let us know!