So we are officially into Week 5 of our New Year's diet plan.  That means that we are still on a vegan diet, but we can eat bread and actually feel full from time to time.  That's kind of a nice feeling.  The problem is that we are both quickly getting a bit bored and the comfort foods that we both love, (i.e. pizza, hot dogs, mac & cheese) are all off limits.  It can be a little frustrating to be craving chips and cheese dip and just know that you cannot have it.  More than once, we have considered giving up the whole thing.  Thankfully cooler heads have prevailed and we are still on track for meeting our goals.  The real trick right now is to put together foods that are comforting, remaking them so that they are a bit healthier.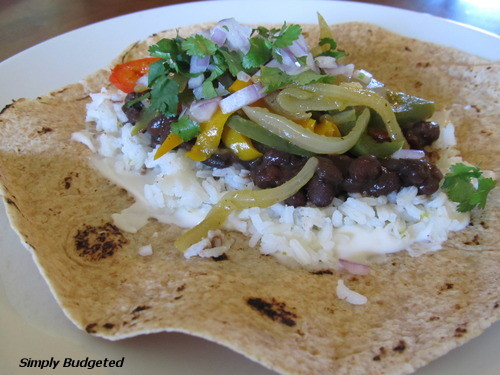 This week, we decided to make some burritos.  For me, burritos are that slightly sinful food that I often feel bad about eating even while I am scarfing it down.  Cheese, meat, sour cream, and who knows what else crammed into a tortilla and wrapped up for easy carrying and consumption.  We just took that happy idea and fit it into our diet plan.  The great thing about this was that it was so easy.
First, we cooked the black beans in the slow cooker using Betty Crocker's Slow Cooker Cuban Black Beans and Rice recipe.  These beans and very tasty and definitely worth a look.
Next, we sliced up some onions and peppers (green bells and red, orange, and yellow sweet peppers) and sauteed them with some olive oil, salt, pepper, and a little cumin.
Then, we cooked up a little rice in the standard method.  We took 1 cup of white rice, 2 cups of water, and a dash of salt, brought it all to a boil, lowered the heat to medium-low, covered it, and waited 20 minutes.  We then mixed in a little lime zest just for some extra flavor.
To put it all together, we laid down a large tortilla, spread out some vegan sour cream (in the produce section of our mega mart), and added some rice, beans, and peppers and onions.  Then, we topped the whole thing off with some chopped cilantro, diced red onion, and a little squirt of lime juice.  Fold the ends, roll it up, and enjoy!  Delicious!
Not counting the beans, the whole thing took less than 30 minutes from the time I started chopping to the time I started eating.  The kids loved it and there were plenty of leftovers (this is even better the next day).  All in all, it was a great little pick-me-up from our diet doldrums.  We hope that you give this a shot and let us know how it turns out.
Have a Meatless Monday experience, recipe, or request?  Leave us a comment and let us know what you're up to!
Meatless Monday, a national nonprofit public health initiative, is all about incorporating more vegetables and less meat into our diet.  It's about moderation, just one day a week, cutting down on meats high in saturated fat and increasing protein-rich plant-based foods — good for personal health and good for the planet.