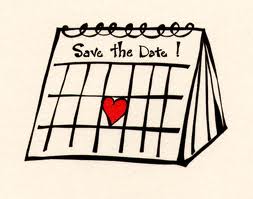 My sister is still fresh off the wedding planning roller-coaster from her wedding last year. She started thinking about her Save the Dates early because she wanted a picture of a heart on the beach in them. She had to plan to take the picture during on her planning trips to her wedding location. Thankfully, she did plan early enough and she got the perfect picture to add to her save the date cards. She went with beautiful cards after much debate of if she should use cards or magnets. The hardest part of the save the date process is planning so just start early to keep it simple and stress free!
Probably what confuses couples the most is what information should go on a save the date. Here is an easy list …
The first name of the bride and groom
The wedding date
The wedding location (city and state are fine … yes, be sure to include the state as some cities are in more than one state!)
A note that the invitation is to follow (An older relative will be convinced your save the date is the invitation and will call your mom to RSVP. It happens every time, just accept it will happen for you too!)
That is it. It is that simple. The best part of save the dates is that they don't have to match your invitation. So pick a save the date it truly you as a couple!