Some days you just know that Monday night is going to be a little rough.  That's when the good old slow cooker is worth its weight in gold!  So this Monday, we've pulled out our trusty copy of Fix-It and Forget-It Lightly
and have made a Vegetable Minestrone.  The thing that annoys me about so many slow cooker recipes is all of the cooking that they sometimes require before tossing it in.  Let's be honest, if I had time to cook, I wouldn't be using my slow cooker.  This recipe has you just toss everything, except for the pasta, right in and turn it on.  After you add in the pasta and let it finish, you just ladle it into a bowl and eat.  How hard is that?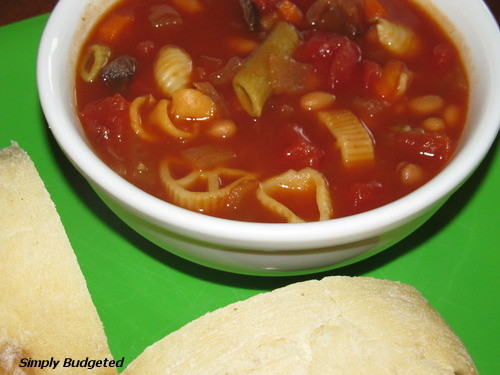 Vegetable Minestrone
In order to make this recipe vegan, we used a low-sodium vegetable broth, but because we needed to keep our protein levels up on a vegan diet, we added one can of drained white beans.  I also don't keep dried basil on hand, but I do have Italian seasoning, so I subbed that for the basil and oregano.  On top of that, we didn't have rotini, but we thought that the kids would like the bag of wacky shapes pasta that we had.  It was fun to watch them searching for the shells and wheels as they gobbled up this yummy soup.
Ingredients
4 C low-fat, low-sodium chicken broth
4 C low-sodium tomato juice
1 Tbsp. dried basil
1 tsp. salt
1/2 tsp. dried oregano
1/4 tsp. black pepper
2 medium-sized carrots, sliced
2 ribs celery, chopped
1 medium-sized onion, chopped
1 C fresh mushrooms, sliced
2 cloves garlic, crushed
28-oz can low-sodium diced tomatoes
1 1/2 C uncooked rotini pasta
Directions
1. Combine all ingredients except pasta in slow cooker.
2. Cover. Cook on low 7-8 hours.
3. Add pasta.
4. Cover. Cook on high 15-20 minutes.
That's it!  An easy vegan dinner customized for our needs and what we have available on hand.  I'm pretty sure that no one will miss the meat in this delicious, comforting soup.
Have a Meatless Monday experience, recipe, or request?  Leave us a comment and let us know what you're up to!
Meatless Monday, a national nonprofit public health initiative, is all about incorporating more vegetables and less meat into our diet.  It's about moderation, just one day a week, cutting down on meats high in saturated fat and increasing protein-rich plant-based foods — good for personal health and good for the planet.
If you are interested in owning a copy of Fix-It and Forget-It Lightly
of your own, Amazon has great prices.  Check them out here: