We are excited to bring you a series of guest posts by Lou Manfredini, host of House Smarts TV!

I am a big fan of hardwood floors. It is really the only renewable flooring you can put in your home. And it is one that will add overall value. Hardwood floors, when taken care of, can last decades. And if they really get beat up you can have them sanded for a fraction of the cost of replacing say…a tile floor or even carpeting. But what if you just cannot afford to have the floors refinished or you just don't want to deal with the mess? I have a few tips.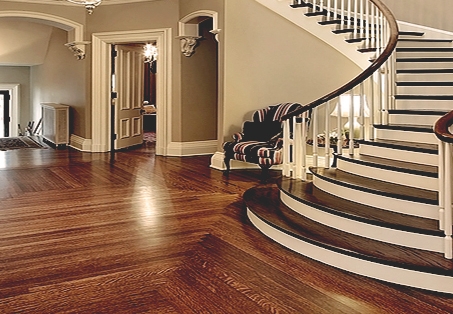 First, it is important to clean your floors with the right stuff. While oil soaps do a nice job you typically have to get down on your hands and knees to do this chore and if you do not rinse the floor well enough it can leave a film and dull the finish. Look for PH balanced cleaners. Makers like Bona Kemi and Holloway House offer both cleaners and polishes to bring back the shine.
And here's how you do it: first clear the room of all furniture. Then clean the floor very well with one of the above cleaners and a micro-fiber mop pad. Then using one of the polishes apply a liberal amount and work from one end of the room to the other and evenly coat the floor. These are water based products that have low VOC and have a very low odor too. These polishes will fill in any small scratches and give the floor an even semi-gloss finish. They take about 2 hours to dry and then you can gently put the furniture back in place. Make sure any chairs that are on the floor have felt pads installed on the legs to keep that shiny, new floor from scratching. The polish can last up to 6 months and even longer. The best
part about it is this whole project will cost you less than $25.00 all in. If you need more information or have additional questions about your home you can reach me at www.housesmartstv.com.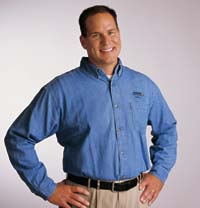 Manfredini began his media career in 1995 when WGN-AM Radio 720 Chicago launched his idea for a home improvement call-in radio show, called
Mr. Fix It. 15 years later, Mr. Fix It is still the number one Saturday morning radio program in Chicagoland. Manfredini also hosts and co-
produces a Nationally Syndicated television show called HouseSmarts, is a regular home improvement contributor for NBC's "Today Show" and
a contributor on NBC 5's morning show in Chicago. He has authored five successful home improvement books for homeowner's who want to
understand how their homes work.
In addition to his media engagements, Manfredini represents Ace Hardware and Marvin Windows and Doors and other companies related to the home. He continues to run his own hardware store in Chicago, keeping him up-to-date on the homebuilding industry's latest trends and technology. He lives in Chicago with his wife, Mary Beth, and four children.
Does Lou's tip help you with a project you need to do at your house? Our hardwood floors could use this tip for sure! Leave us a comment and let us know!