Kashi has a new cereal out! It is the Go Lean Crisp! Cinnamon Crumble. When I saw this cereal, I knew it was destined for a recipe. Sure, it is great as cereal in a bowl of milk but when I saw it, I saw the granola-like texture which scream PIE to me. I love granola toppings on pies but I hate the price of a bag of granola. I was thrilled to think of this cereal as budget friendly alternative to my love of pie making (especially in the summer!)
Since it isn't fresh fruit season here in VA, I decided to go with a cherry pie since I love canned cherry pie filling. This recipe is a great recipe not only because it is budget friendly but it so easy that anyone can make a fresh and not buy that over priced pie from the bakery or frozen food section.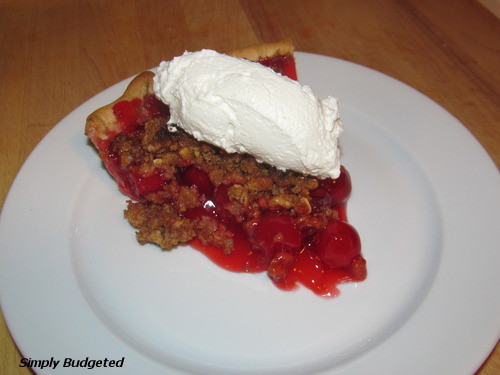 Ingredients
1 – Pie Crust (I used a ready made pie crust from the refrigerator section but make your own if you have time!)
2  – 21 ounce cans of cherry pie filling (or whatever pie filling you love … fresh strawberry pie filling anyone?!)
2 cups of Kashi Go Lean Crisp! Cinnamon Crumble cereal
1/4 cup of butter
1/4 cup of light brown sugar
Directions
1. Preheat your oven to 425 degrees. Lightly grease the bottom and sides of the glass pie dish with the butter.
2. Press your pie shell into the pie die and crimp the edges with your fingers.
3. Place the room temperature pie filling in the pie shell.
4. Pour the 2 cups of cereal into a ziploc bag and bang the heck out of it to make the larger crumble pieces smaller.
5. Melt the remaining butter. (I used the microwave for 30 seconds at a time until melted.)
6. Combine the crushed cereal, butter, and light brown sugar in a bowl and mix well.
7. Cover the top of the pie filling with the crumble mixture.
9. Cover the pie with aluminum foil and bake for 30 minutes. Remove the aluminum foil and continue baking the pie for another 10-15 minutes.
10. Let cool before serving.
Brian made a quick whipped cream (heavy whipping cream, sugar, and some whipping) to top the pie. It was so good!!
You can find the Kashi community online at www.kashi.com, on Facebook at www.facebook.com/kashi and visit them on YouTube at www.YouTube.com/user/KashiCompany.
I can't wait to try this with a strawberry or peach pie! What is your favorite pie filling? Leave us a comment and let us know!