Having a meatless meal does not mean sacrificing comfort.  Macaroni and Cheese is one of those meals that takes just about everyone back to some point in their childhood.  Unfortunately, as a nation, we have taken to using those electric orange yellow powder packages of cheese dust in lieu of taking a little bit of time to make it from scratch.  Whether as a main meal or as a side dish, "real" mac and cheese is actually very easy to make, takes just about as much active cooking time, and is so much tastier than that boxed stuff.  On top of that, it can be a great foil for introducing veggies that may not be as popular on their own (can anyone say "broccoli mac and cheese"?).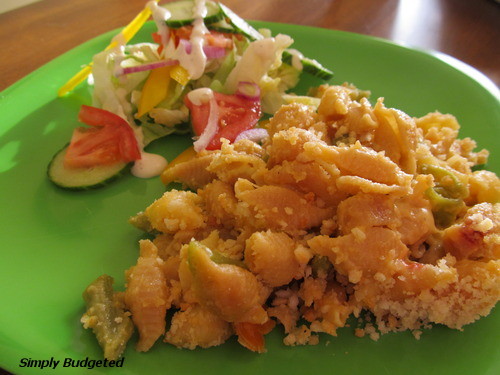 Here is the four-step process to making great Macaroni and Cheese:
1.  Cook the noodles.
2.  Mix in cheese sauce and veggies (if using).
3.  Top with bread crumb mix.
4.  Bake at 350 for 30 minutes.
Simple, right?  Use whatever noodles you want.  We used a mix of shapes because we had them and they looked fun.  For the cheese sauce, just use the one we introduced last week in our Meatless Monday:  Baked Potatoes post (I thin it out with just a little extra milk because that's how I like it).  If you are using veggies, I would saute them first and then add them in.  For veggies like broccoli, just add them to the water when you boil the pasta.  Veggie options might include peppers, mushrooms, even spinach.  Use your imagination or just clean out your fridge!  Mix everything together and pour into an appropriately sized baking dish.  For the topping, mix 3 tablespoons of melted butter with 1 cup of breadcrumbs and sprinkle over the dish.  Bake at 350 for 30 minutes and you are all set!
Have a Meatless Monday experience, recipe, or request?  Leave us a comment and let us know what you're up to!
Meatless Monday, a national nonprofit public health initiative, is all about incorporating more vegetables and less meat into our diet.  It's about moderation, just one day a week, cutting down on meats high in saturated fat and increasing protein-rich plant-based foods — good for personal health and good for the planet.