We are excited to bring you a review guest post from a budget minded bride-to-be!

Initially, I had no idea where to begin with wedding invitations. I didn't have a "theme," per se, but I did fall in love with the look of classic, old timey lace dresses from day one. Although lace wedding dresses were not meant for me, I felt I had to use it within the wedding because the look was so fitting to my personality. It's hard to find a "look" with the class you'd like to portray in invitations without it being too formal or too informal. I also knew that I wanted to throw our own spin on the wording to make sure our friends and family were ready to celebrate! Maybe I cared about invitations too much, but just when I thought I'd throw in the towel and grab a "make your own" kit at Michael's,
WeddingPaperie.com
was introduced to me. Luck? Maybe a little! I loved dozen of their designs and with the option to edit the smallest of detail made it so fun to put together!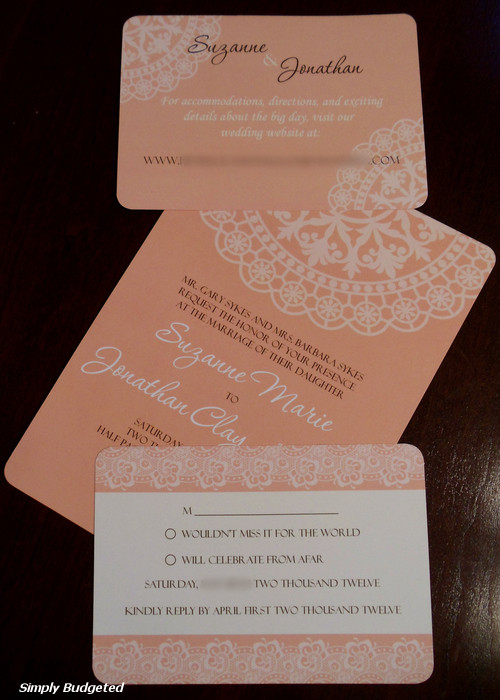 I began with the "Old Fashioned Style Pink with White Lace Wedding Invitation" design and with the help of a best friend and her creativity, we were able to put my own spin the entire order that was fun and unique! By editing the color, the wording, and the design on all three cards we made out with one of the prettiest invitations I have seen; matching the venue and my personality! I love it! The staff also made us feel at ease by ensuring they would look over our final order with a second set of eyes. Sure enough, the next day I received a phone call with an option to update the response card with an embellishment that was more fitting. They actually looked over the entire order and went out of their way to inform us of a better option! It was great and we opted to take their suggestion! We received the invitations, response cards, and wedding website cards packaged beautifully in our wedding color tissue paper in four days. I couldn't have done it without a best friend and the friends at WeddingPaperie.com. I recommend taking a look at their designs because I'm sure you'll look no further!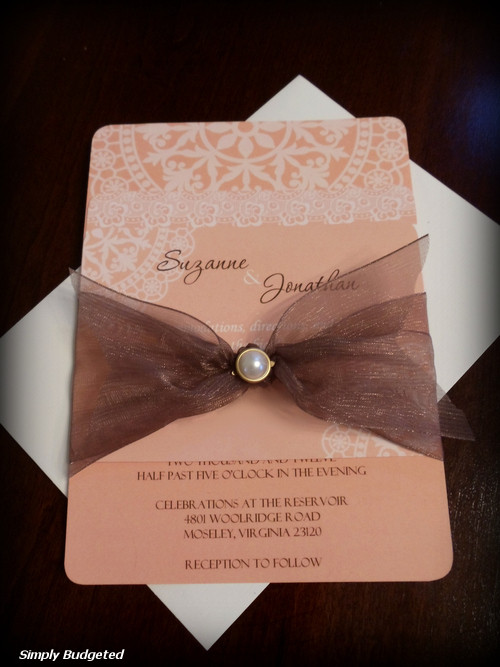 Have you thought about ordering wedding invitations online? Would that help your budget? Leave us a comment and let us know!