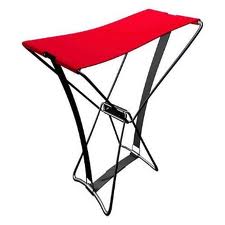 Do you love or hate daily deal sites? Have you seen the Top 50 Deals Online? Those aren't even daily deals … their catch is they are just online. It does seem some of the best deals are online. I have to admit that this week that Brian convinced me that we needed pocket folding chairs from Tanga.com. Have you ever heard of these chairs? They fold up and literally fit in your pocket. I am told that we can use these at soccer games or at the beach or where ever we want a chair. I wonder how many of the chairs in the garage I can sell in the next garage sale. I am betting none and these will be added to the chair collection out there. At least these two will only be the size of two pockets, right?
Now you see the problem with daily deal sites. They convince you that need products that you may have never even known existed. (Brian says he did know about these because Army guys will take them to the ranges so maybe I am the only know that didn't know a pocket chair existed!)
I guess it doesn't matter if you register for FREE coupons or just search for them but remember to search for them even when you are looking at daily deal sites because many have a coupon code box at checkout too!
What was the last item you bought from a daily deal site? Was it a pocket chair? Leave us a comment and let us know!