Friday Favorites is another almost weekly feature here at Simply Budgeted. The whole point of this feature is to share some of our favorite finds. Anything is game. Food. Cleaning supplies. Kid stuff. Garden favorites. Recipes. Anything that I really like and want to randomly post about.
Reminder/Disclaimer/Whatever: Everything in Friday Favorites is something that we use and bought on our own.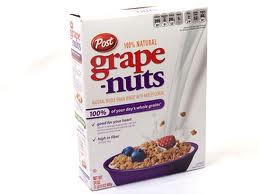 Description …
Post Grape-Nuts is a 100% natural cereal made from natural whole-grain wheat with barley. Delicious whole-grain foods like Post Grape-Nuts (with 52g whole grain per serving)* provide naturally-occurring fiber (7g per serving) and nutrients that you need every day. But what truly makes this cereal unique? It's the naturally-sweet, unique crunch baked into each and every one of those tiny nuggets!
Our Thoughts …
This is probably a lame Friday Favorite in many's opinion but Grape Nuts are a staple at our house. Two of our three kids will fight me for my bowl of Grape Nuts if they see I have one. The other kiddo enjoys them but doesn't run up and try to steal my spoon!
Now we always eat our Grape Nuts warm. You can add water and "cook" them in the microwave or add boiling water and just stir. Oh and I love to add a dash of brown sugar too.
Coupons and sales for Grape Nuts are super rare so this one of the few items I buy at Walmart on a regular basis. The Post Grape Nuts website actually has several recipes that use Grape Nuts so I will have to add these to my ever growing recipes to try list!
Have you ever had Grape Nuts? Leave us a comment and let us know!