Sometimes dinner on a Meatless Monday needs to be really simple. Pancake dinner fits that bill for sure. Our kids would eat pancakes for dinner every night if we let them. They love pancakes so dinner tonight was a hit for sure!
We … haha, that is funny! Brian tends to break out the electric griddle on pancake days. Making 4-6 pancakes at once sure beats making two at a time in a skillet!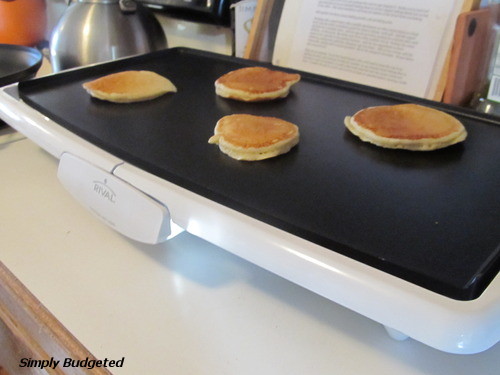 Brian's favorite pancake recipe is Alton Brown's instant pancake recipe. The best of the recipe is that you can make a batch (or double or triple) the mix and then just store it in the cupboard. We do this. I can even manage the mix! In the years that Brian has been making this recipe, he has cheated on all of Alton's steps in the recipe but does make sure to let the batter "rest" just as you do with a meat!
What pancakes do you like? Do you add to the pancake batter or put toppings on there? Our kids love cinnamon sugar on the top of their pancakes.
Have a Meatless Monday experience, recipe, or request?  Leave us a comment and let us know what you're up to!
Meatless Monday, a national nonprofit public health initiative, is all about incorporating more vegetables and less meat into our diet.  It's about moderation, just one day a week, cutting down on meats high in saturated fat and increasing protein-rich plant-based foods — good for personal health and good for the planet.