Usually we have Meatless Monday filled with recipes, but sometimes we really just don't have a lot of time.  It's nice to know that tasty and healthy meatless options are available at your local supermarkets.  This week, we found spinach ravioli at our local big box store and topped it with a vodka tomato cream sauce that we got from the grocery store.  We paired it with a basic house salad of lettuce, carrots, cabbage, tomatoes, and cucumbers.  It was the kind of meal that you expect to get at any given Italian restaurant, but in the comfort and convenience of your own home.  All in all, it was ridiculously easy, yummy, and took less than 20 minutes from filling the pot with water to sitting down at the table.  If that's not Simply Budgeted, I don't know what is.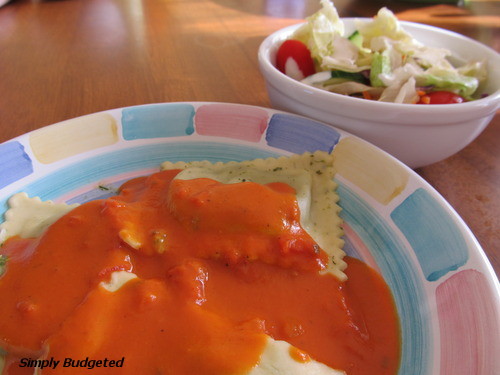 What do you do for a simple Meatless Monday plan?  Have a Meatless Monday experience, recipe, or request?  Leave us a comment and let us know what you're up to!
Meatless Monday, a national nonprofit public health initiative, is all about incorporating more vegetables and less meat into our diet.  It's about moderation, just one day a week, cutting down on meats high in saturated fat and increasing protein-rich plant-based foods — good for personal health and good for the planet.