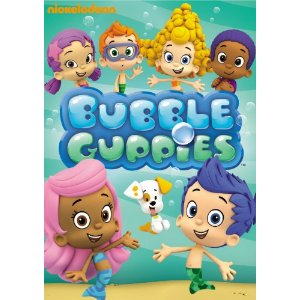 Details …
It's time to LEARN, it's time to LAUGH, and it's time to join the Bubble Guppies and their playful pet in their very own fairytale – Bubble Puppy's Fintastic Fairytale Adventure! In this double-episode Molly and Gil went up a hill to fetch a pail of water. But when a mean witch turns Bubble Puppy into a frog, Molly and Gil enlist the help of some famous fairytale friends to undo her mean green spell. There's even more adventure and discovery with two additional episodes with Bubble Puppy. And if that's not enough, go ahead and ROCK OUT with karaoke music videos and a Bubble Puppy DVD Game!
The DVD features a special double-length episode, "Bubble Puppy's Fin-Tastic Fairytale," guest-starring Wanda Sykes.  In addition, families can enjoy two extra Bubble Guppies episodes, and DVD exclusive special features including a "Create Your Own Bubble Guppy" game, karaoke music videos and a jukebox song selection.  Bubble Guppies closed 2011 as the top preschool series across all TV with kids 2-5.
Our Thoughts …
The kids really enjoy Bubble Guppies. I find it amusing to watch them realize it is on as they pass through the living room on their way to some other location in the house and suddenly they are singing along to a song on the DVD. The music on Bubble Guppies is really enjoyable. Little dude loves when they ask questions. Since he has really picked up his talking here suddenly, it is great to hear him in interact with the shows and see that he is understanding what they are saying! This is a great DVD for a family movie night or to put in the van DVD case!
You can find this DVD on Amazon right now …