First, do you live near Charlottesville, VA? If you do, you can get a free ticket to see Sid the Science Kid at the Carmike during the Saturday morning shows! Find details here! Don't live near Charlottesville? Don't fret! You can find a local theater near you here!
About Sid's Backyard Campout
Pack some food and bring your backpack because Sid, Gerald, and Dad are gearing up for a big adventure!  They're setting up tents for a campout in the backyard!  Dad is eager to share his love of nature and demonstrates how to have a great time outside with the simplest of necessities. They look for animals, cook their own dinner, marvel at the stars in the sky, roast marshmallows, and sing songs around the campfire.  Join the adventure and sing along!
About Peppa Pig …
Peppa is a loveable, cheeky little piggy who lives with her little brother George, Mummy Pig and Daddy Pig. Peppa's favourite things include playing games, dressing up, days out and jumping in muddy puddles. Her adventures always end happily with loud snorts of laughter.

Peppa Pig: Muddy Puddles and Other Stories shares 12 story vignettes with the Kidtoons family. Each story provides a peek into the world of Peppa as she encounters every day scenarios. As Peppa discovers the world around her, our young audience has many opportunities to learn and grow.
Sophie was sent Peppa Pig gift set with merchandise currently only available in the UK: Peppa DVDs, Peppa plush beanie, My Extra Special Sticker Book, Peppa portrait, Peppa coloring book, Peppa workbook and Peppa First Sleepover.
Sophie seriously loves Peppa Pig. She loves the oink, oink and is often heard saying that after the show. I can say there is a whole selection of Peppa Pig shows recorded to our DVR player for her enjoyment any time of the day! So to say she was happy to have a Peppa Pig DVD and book and other goodies is an understatement for sure! Want to see a happy girl? Here she is ….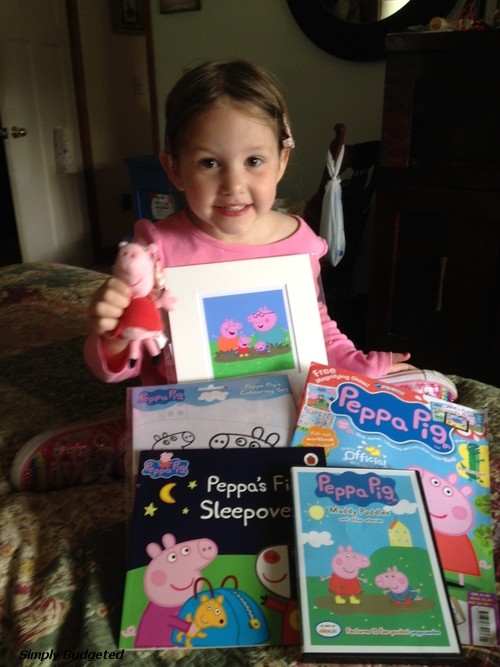 Do you love Peppa Pig or Sid the Science Kid at your house? Leave a comment and let us know.