Each week, we post a meatless recipe that is intended as a dinner meal.  It's easy to forget, however, that the point of Meatless Monday is to spend the day without meat.  On that note, we are going to start introducing some breakfasts, lunches, and snacks that are all meat free.
This week, we made veggie subs.  No recipe needed here.  We just put some mayo and cheese on a sub roll and add whatever veggies are handy.  In this case, we have tomatoes, cucumbers, peppers, and a lettuce mix.  We pair it with some chips (Veggie Straws, in this case) and a small salad.  We have a little Mediterranean salad of tomatoes, cucumbers, red bell peppers, salt, pepper, and a little olive oil and balsamic vinegar.  This is all super easy to throw together and would keep nicely refrigerated in a lunch box for a couple of hours.  Best of all, for those of us with significant others who have to have the bit of meat, you can just add that slice of turkey for them and have yours without.  Enjoy!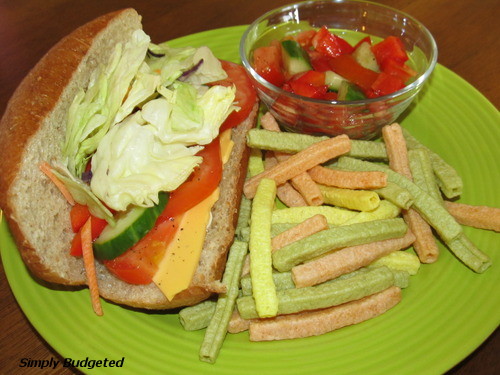 What do you have for lunch on Meatless Monday?  Have a Meatless Monday experience, recipe, or request?  Leave us a comment and let us know what you're up to!
Meatless Monday, a national nonprofit public health initiative, is all about incorporating more vegetables and less meat into our diet.  It's about moderation, just one day a week, cutting down on meats high in saturated fat and increasing protein-rich plant-based foods — good for personal health and good for the planet.