We are excited to bring you a series of guest posts by Lou Manfredini, host of House Smarts TV!

"HouseSmarts" host Lou Manfredini, offers some suggestions for keeping the hot and sticky out of your home during this summer heat wave.
As summer heats up this week many of us will be trying to keep cool inside our homes. There is plenty you can do to lower the temperature in your home with a minimal investment. HouseSmarts TV host and "Today" Show contributor Lou Manfredini, offers some helpful tips on how to beat the heat this week.
For starters, keep blinds and drapes closed during peak sunlight. Use a portable fan at one end of your home blowing fresh air in and another at the other end of your home pulling the hot air out. This will create a draft in your home that will lower the temperature and help move some of the humidity outdoors.
For those with central air conditioners in their home – they will be working overtime this week!  Before the heat arrives – gently sweep away any leaves and debris from that big A/C condensing unit sitting outside your home, then hose it down.  This will clean it, allow it to breathe easier and cool more efficiently.
 Auto or Fan On? This is a big question I always get.  On your thermostat flip that switch to "Fan on!"  Let that fan run 24/7 – now until the heat has passed.  The constant circulation will take the cold air that it's providing and circulate it throughout the home which will have your condensing unit on the outside working less, which means you will be using less energy!
 While rarely do I suggest cheap $0.99 air filters over pleated filters (the pleated have 10x more filtering capabilities!), in this severe heat go ahead and switch your filter out with a cheapie!  The less expensive filters have better breathing capabilities and will allow that air from the blower to flow easier, which again, will be more energy efficient.
Lastly, where you set that temperature is important as well.  Remember you are trying to control the humidity level.   Setting it to 64 will not make it colder!  Set it to 72 or 74 and allow that system to run to control the humidity – that is the secret behind air conditioning.
To find out more information on Lou and his shows visit www.housesmartstv.com, www.wgnradio.com, and www.fixitenterprises.com.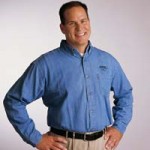 Manfredini began his media career in 1995 when WGN-AM Radio 720 Chicago launched his idea for a home improvement call-in radio show, called
Mr. Fix It. 15 years later, Mr. Fix It is still the number one Saturday morning radio program in Chicagoland. Manfredini also hosts and co-
produces a Nationally Syndicated television show called HouseSmarts, is a regular home improvement contributor for NBC's "Today Show" and
a contributor on NBC 5's morning show in Chicago. He has authored five successful home improvement books for homeowner's who want to
understand how their homes work.
In addition to his media engagements, Manfredini represents Ace Hardware and Marvin Windows and Doors and other companies related to the home. He continues to run his own hardware store in Chicago, keeping him up-to-date on the homebuilding industry's latest trends and technology. He lives in Chicago with his wife, Mary Beth, and four children.
Does Lou's tip help you with a project you need to do at your house? With the high here today at 100, we need to stay cool for sure! Leave us a comment and let us know!