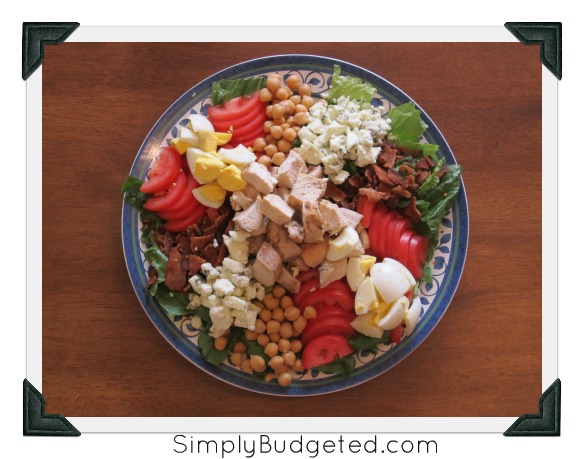 I've heard a number of times that you eat with your eyes first.  If food looks good, you are more likely to want to eat it.  When food looks bland and flavorless, sometimes you'd just rather go hungry.  We get a lot of magazines with hopes of being inspired to try something new.  Sometimes things are a little complex; others just give a twinge of an idea that I run with and completely change.  As often as not, the pictures have me drooling before I even read the ingredient list.  Today's concept was inspired by Whole Living's Cobb Salad.  This picture just really inspired me.  For some reason, the idea of taking a bed of lettuce and arranging the other ingredients in different ways to create eye-appealing dishes was very interesting to me.  On top of that, the combination of flavors in the Cobb Salad is just so yummy that I had to make several different arrangements of it just so that we could eat it.
One caveat here:  Beth does not like avocado (I know, I'm working on it!!).  She's not fond of blue cheese either, but with the other flavor combinations, she found that she could tolerate the little bits mixed in.  So to add a little bit of depth to the salad, we added some canned garbanzo beans (also called chick peas).  We also left out the watercress because we just don't keep that stuff around (and the kids–and Beth, for that matter–just haven't developed a taste for it).  What follows is a few pictures of our arrangements and an ingredient list.  No recipes, no amounts, just use what works best for you and your family.  I'll have a couple of tips that worked well for us.  I hope you all enjoy.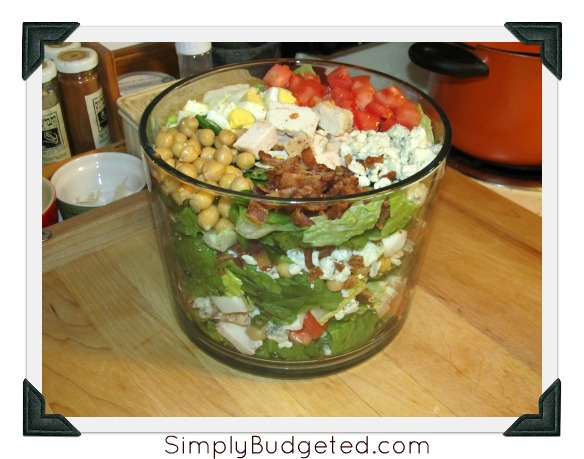 You could use any or all of these and still be right on with the concept of the Cobb salad.  Does it have to be the classic?  Of course not!!  Make it your own using what you have handy.  I know that I won't tell the Cobb Salad police!
Diced chicken breast
Romaine or iceberg lettuce
Sliced or diced tomatoes (or you could use cherry tomatoes)
Canned garbanzo beans
Cucumbers
Watercress
Avocado
Bacon (the thick-sliced stuff worked sooooo much better than the really thin stuff)
Hard boiled eggs
Blue cheese
Fresh herbs
Your favorite dressing (we used a bottled Ranch dressing, but you can use or make whatever you like)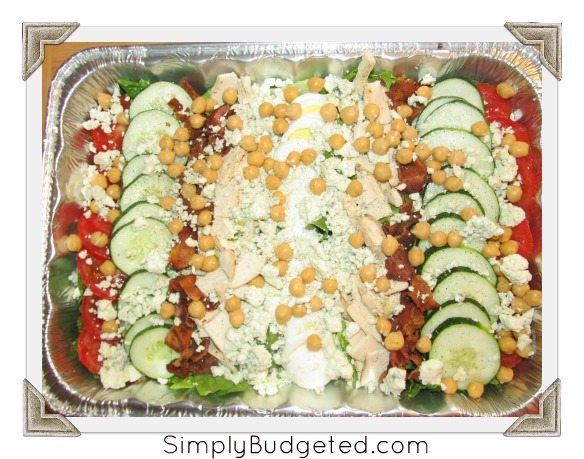 What would you add to a Cobb Salad for your family? Leave us a comment and let us know!