It is back to school time here which means that when Grace gets off the bus, she is hungry. We try to make sure we have healthy snacks on hand instead of her eating whatever she can find when she gets home! We love snacks that have little to no prep since our days are so busy! Del Monte Fruit Cups are a great no-prep snack for us. #SmartSnack
On other days, there is a little down time before the bus comes and the kitchen is calling so it is fun to make a warm treat for Grace to enjoy when she gets off the bus. This is where we dreamed up a Peach Upside Down Mini-cake that you will want to make even if you aren't getting kids off the bus!
The kids and I headed out Walmart trying to miss a rain storm but ended up right in the middle of the rain storm. I didn't have the happiest shoppers with me but we made it work! The varieties of Del Monte Fruit Cups during our shopping trip were hard to find in the messed up display but the As Advertised sign did draw me into the Del Monte products!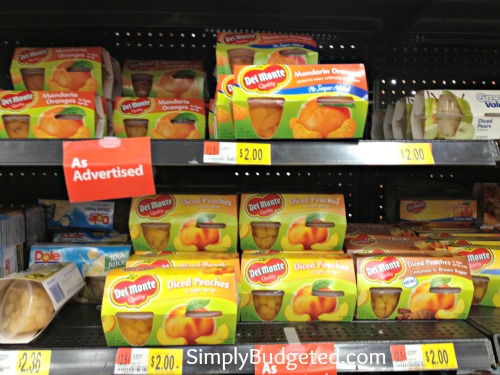 As a result of the rain pouring on the roof of Walmart, I ended up shopping longer than we planned which means I bought more than I planned too.  My purchases show that Brian has been having problems with his ankle lately. And yes, those are Hello Kitty shoes. Don't you want a pair too?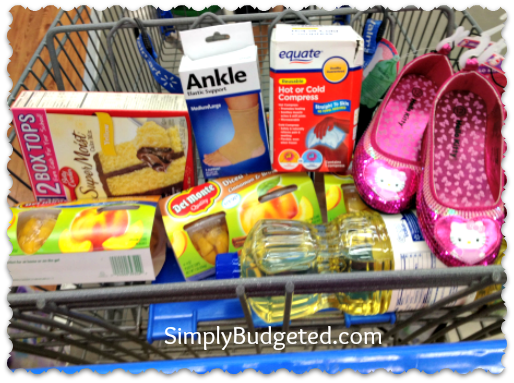 I was excited to see the No Sugar Added varieties of Del Monte Fruit Cups during our shopping trip. We try to limit the extra sugar the kids get and finding No Sugar Added products is a super easy way I do this. Del Monte Fruit Cups No Sugar Added are a great back to school snack for us because they make snack time so easy!  Plus the price of $2.00 for a 4 pack at our Walmart fits our budget when looking for healthy snack ideas for the kids!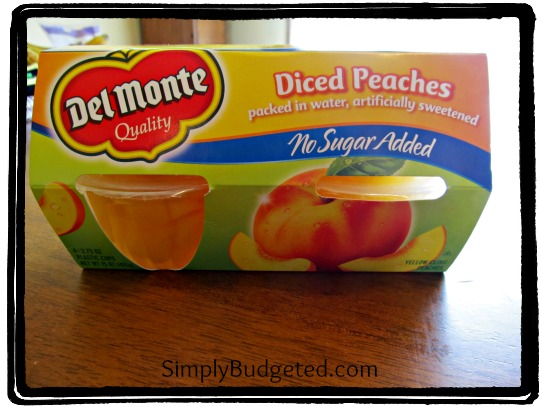 As I said we like to make Grace special treats some days after school. We do but we also like easy special treats so to make this treat super easy, we used a yellow cake mix!
We decided the peach juice was too good to just toss. The kids drink the juice after they finish the fruit so we decided to see how much juice was in the four little fruit cups. There was about 3/4 of a cup of juice in the four fruit cups. The separated juice was used to replace part of the water in the cake mix recipe.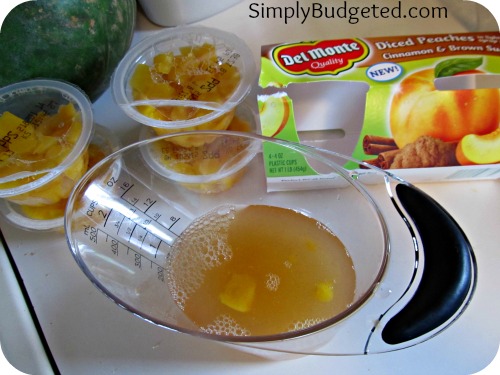 Peach Upside Down Mini-cakes
Ingredients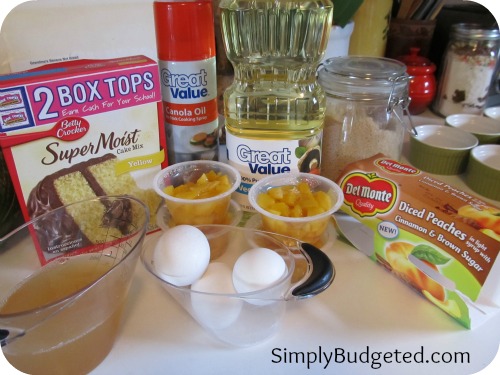 1 yellow cake mix
3 eggs
1/2 cup vegetable oil
1 – 4 pack of Del Monte Diced Peaches with Cinnamon and Brown Sugar Fruit Cups (separate the juice from the fruit)
1/4 cup water
Brown Sugar
Baking Spray
Directions
Preheat oven to 350 degrees. Spray the muffin tin or ramekins with baking spray. Place a small spoonful of brown sugar in the bottom of each muffin cup or ramekin. Place 4-6 pieces of diced peaches on top of the brown sugar. Add water to the separated peach juice to make 1 cup of liquid. Make the cake batter as instructed on the box. Pour the cake batter in each muffin cup or ramekin over the peaches and brown sugar. Bake for 15-20 minutes. Allow sit for 5 minutes to cool slightly. Run a knife around the edges to release the cake from the baking vessel. Flip onto a cooking rack or plate to serve warm!
Ta-da! The Peach Upside Down Mini-cake in the heart ramekin was a success!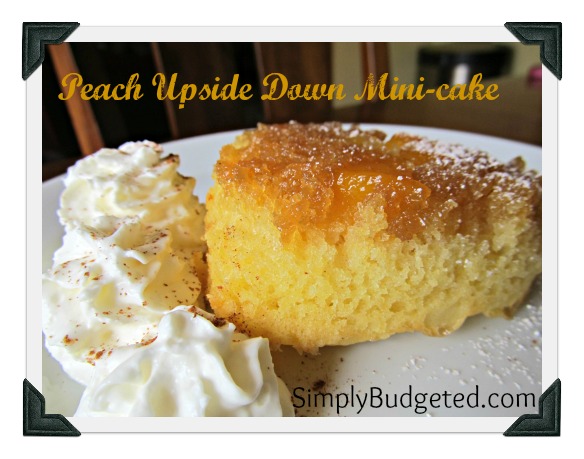 Check out our G+ album for pictures of our full shopping trip, step-by-step recipe pictures, and the kids (mostly!) enjoying these little cakes!
Are you a fan of Del Monte? Be sure to Follow Del Monte on Twitter and Like Del Monte on Facebook!
Would you make a treat such as the Peach Upside Down Mini-cakes using Del Monte Fruit Cups or would you be too eager for a snack and just eat the fruit from the fruit cup? Leave us a comment and let us know!
I am a member of the Collective Bias™ Social Fabric® Community.  This shop has been compensated as part of a social shopper insights study for Collective Bias™ and Del Monte #CBias #SocialFabric