For me football season reminds me of my time in college, I am a big VA Tech football fan. Brian on the other hand will watch any football game that is on TV. He doesn't have a favorite team and loves the game for the game … the closer the score, the bigger the plays, the more he enjoys the game that is on the TV. This can be good or bad because this means that any time there is football on the TV, there is a chance he is wanting to watch the game. If he misses a full weekend of catching a game, he has been known to grumble about missing his relaxing time. Even though we don't have an NFL team that we cheer for, I still love the excuse to make something when the game is on so that is why I really love football season. My brother on the other hand is trying to make us have a team to cheer for by continuously buying our kids Washington Redskin clothing. I think he is hoping to have someone to take a game one day and this is way of ensuring that happens! My brother loves to go to Washington Redskins games when he gets the opportunity. I on the other hand have only been to one of their games. I was maybe ten. It was cold. It was December. I have no idea who they played or if they won BUT I do remember that Santa Claus came on the field at half time. Yeah, you see where my priority is in memories. Maybe Greg would know who they played at that game and if they won. I would have to ask.
I was excited to hear about the SNICKERS® Brand NFL Minis at Walmart as part of a #SNICKERSMINIS promotion. I hear some Walmart had pallet display but our Walmart is a smaller Walmart and apparently opted for an in aisle display …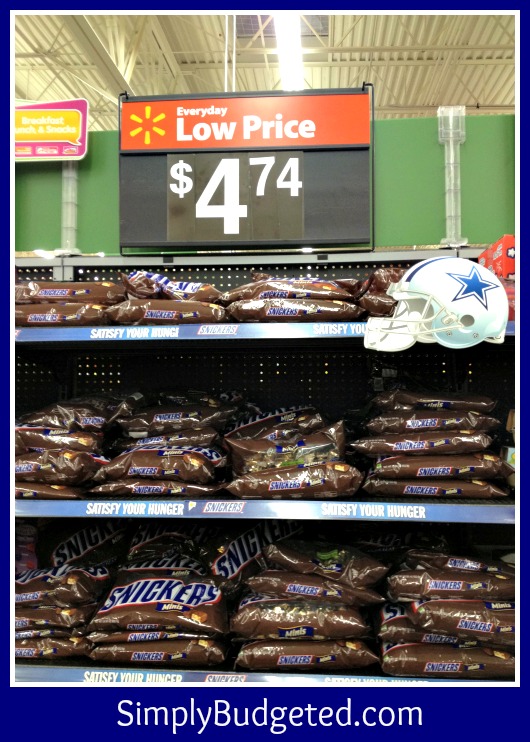 These are the large bags of  SNICKERS® Minis so I happily put one in my shopping buggy at Walmart. Any excuse to not wait until Halloween for big bags of chocolate is a good excuse at my house, how about yours?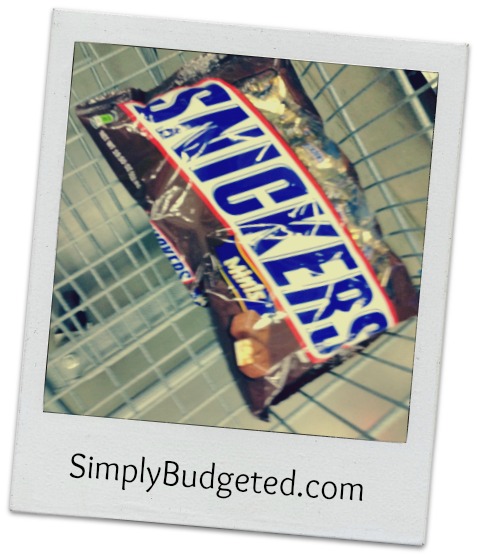 So now what to do with this big bag of SNICKERS Minis? I decided to chop them up. (OK, Brian chopped since I am rarely trusted with a sharp knife around here … in all honestly Brian has cut himself more than  me but I guess he figured that is better!)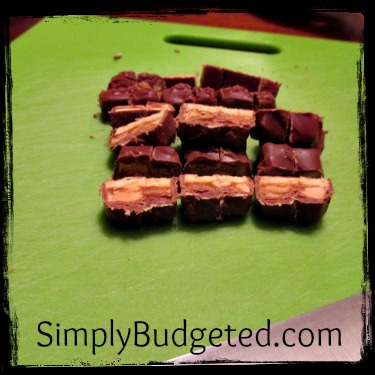 I dug around in my cupboards and settled on a cheating recipe … semi-homemade recipe … whatever you want to call it recipe. So it is …
Football SNICKERS Brownies
1 box of chocolate cake mix (I used Duncan Hines Butter Fudge Chocolate)
1 stick of melted butter (1/2 cup of butter is 1 stick)
2 eggs
2 cups of quartered SNICKERS Minis
Preheat oven to 350 degrees. Grease a 9×12 baking pan. Combine all of the ingredients in a mixing bowl and mix them up good. Spread the batter in the greased pan (it will be very clumpy and this OK!)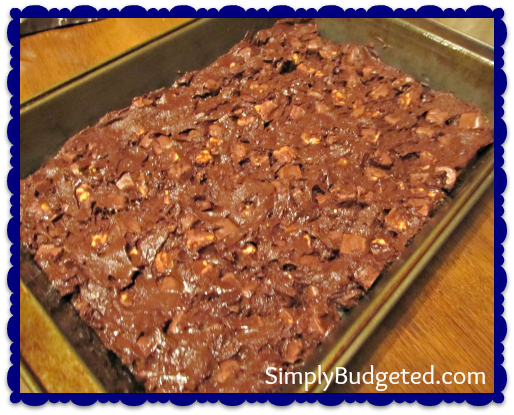 Bake for 25-30 minutes. Allow the brownies to cool if you don't want them gooey. If you like gooey, then cut and serve them warm!
Ta-da!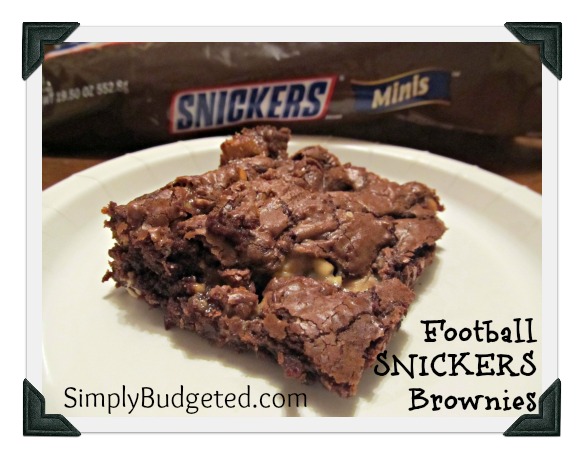 If that doesn't, make you ready for some football games, I am not sure what makes you ready for a football game. See it as a chance to cheer for your favorite team or an opportunity to bake with SNICKERS Minis … up to you! Head over to Follow SNICKERS on Twitter and Like SNICKERS on Facebook!
What would you make with SNICKERS Minis because you know you can't save that bag until Halloween? Leave us a comment and let us know!!
NOTE:  I am a member of the Collective Bias™ Social Fabric® Community.  This shop has been compensated as part of a social shopper insights study for Collective Bias™ and SNICKERS® Brand NFL Minis but all thoughts and opinions in this post are my own. #SnickersMinis #CBias #SocialFabric