This isn't a typical Friday Favorite but I hope you can play along …
Grace rides the school bus. Sophie and Matthew love to wait for the bus with Grace. This morning I was coming up the driveway from dropping off the last of the trash at the street and Sophie says "look mom! It is Matthew's favorite color." I could see something on the sidewalk but not what it was so I asked her and she said she didn't know. To my surprise it was a little red lizard.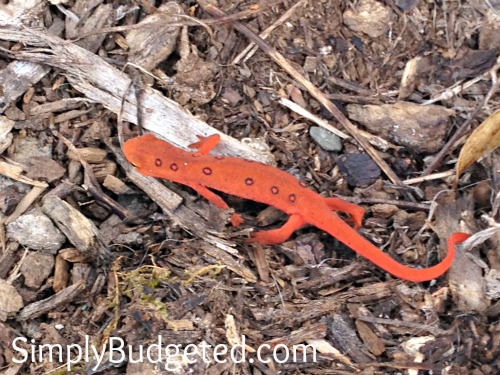 Well I had to look him up. He is actually a Red Eft which is a young Red Spotted Newt. They are common in this area but like wet areas. I am not sure why he was in our sidewalk and then garden but he was beautiful. The kids loved seeing him and talking about him. It was a good reminder to not touch animals we see outside too.
This morning was a good reminder to take a minute and just wait for the bus and not run out like a crazy mom trying to get Grace on the bus that may or may not be 5 minutes early today.