This week, we are offering a meatless side dish.  In fact, this side would really be considered vegan.  You could serve it on it's own for a nice lunch or with a side salad for a lovely little dinner.  The quinoa (pronounced keen-wa) is a little nutty and meaty, the almost are crunchy and salty, and the onions are just the right amount of sweet.  Add the freshness of the parsley and you have a great side dish.  You can also change up the herbs and seasonings, add some different veggies, or add some cooked beans to make a filling main dish.  Don't you just love recipes that let you play around with your food?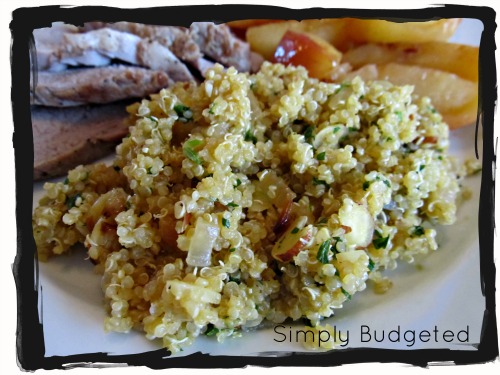 Quinoa Pilaf
This recipe is taken from Camilla V. Saulsbury's 500 Best Quinoa Recipes: 100% Gluten-Free Super-Easy Superfood
.  This great dish can serve as a side or could easily be used as a great and easy lunch.
Ingredients
1 cup white, red or black quinoa, rinsed
2 cups ready-to-use reduced sodium vegetable broth
1tbsp extra virgin olive oil
1 1/4 cups chopped onions
1 clove garlic, minced
1/2 cup packed fresh flat-leaf (Italian) parsley
1/3 cup lightly salted roasted almonds, chopped
Fine sea salt and freshly cracked black pepper
Directions
In a medium saucepan, combine quinoa and broth.  Bring to a boil over medium-high heat.  Reduce heat to low, cover and simmer for 12 to 15 minutes or until liquid is absorbed.  Remove from heat and let stand, covered, for 5 minutes.  Fluff with a fork.
Meanwhile, in a large nonstick skillet, heat oil over medium-high heat.  Add onions and cook, stirring, for 6 to 8 minutes or until softened.  Add garlic and cook, stirring, for 1 minute.  Add quinoa and cook, stirring, for 2 minutes.  Remove from heat and stir in parsley and almonds.  Season to taste with salt and pepper.
Does your family participate in Meatless Monday?  What are you having for dinner tonight?  Have a Meatless Monday experience, recipe, or request?  Leave us a comment and let us know.  We'd love to hear from you!
Meatless Monday, a national nonprofit public health initiative, is all about incorporating more vegetables and less meat into our diet. It's about moderation, just one day a week, cutting down on meats high in saturated fat and increasing protein-rich plant-based foods — good for personal health and good for the planet.