NOVICA Mission …
 We want to give artists and artisans around the world a global platform to express their true artistic talents and to spur their creativity. And, we want to provide you with access to unique, hard-to-find items at great values that only the Internet infrastructure can allow.

At the deepest essence of our philosophy, we want to create a bridge between you and the many talented artisans across the globe.

We want you to know about who you're buying from. We want you to feel that attachment to the product and to the hands that created it.

In the spirit of the Internet, let us bring you together.

NOVICA. The World is Your Market.
My Thoughts …
My grandma always told me silver was my jewelry color. I always told her I liked gold. I do admit that I do like gold but I find more and more of jewelry is silver these days. I did spend time browsing  Amethyst Dangle Earrings and Silver Cocktail Rings. But I have one silver necklace that I love and wear a lot. So I was really excited to browse the Silver Pendant Necklaces to try to find another silver necklace. I fell in love with the Silver cross necklace, 'Filigree Flowers' from NOVICA as soon as I saw it. I wear it often and just love how it looks!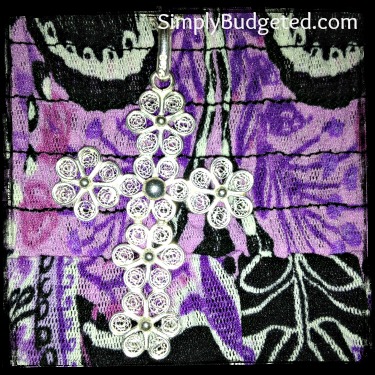 The description is …
Filigree flowers blossom into a cross of sublime elegance in a design by Giuliana Valz-Gen. The floral motifs are made by hand with threads of silver in a style unique to Peru's filigree traditions.
Here is a recent picture of me wearing this beautiful necklace …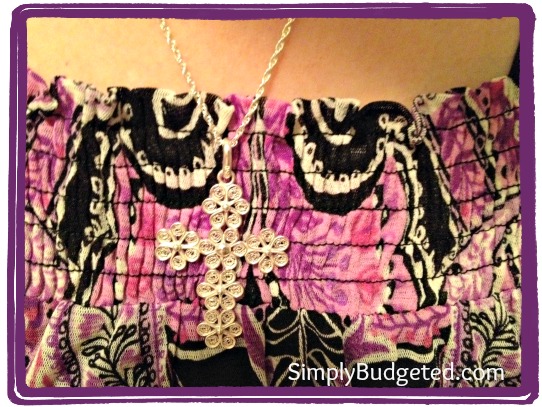 Plus you can have home parties with NOVICA LIVE! You can start your own home based business with a started kit that is $199. The started kits have over $400 worth of samples and $150 in business materials. If you sign up to be a party hostess, be sure to list your referral as "blog – Simply Budgeted" plus let us know as we would love to hear about your new business adventure!
Have you browsed the selection at NOVICA? What are your favorite pieces? Leave us a comment and let us know!