Did you know that Kmart.com has an Outdoor Living Catalog online?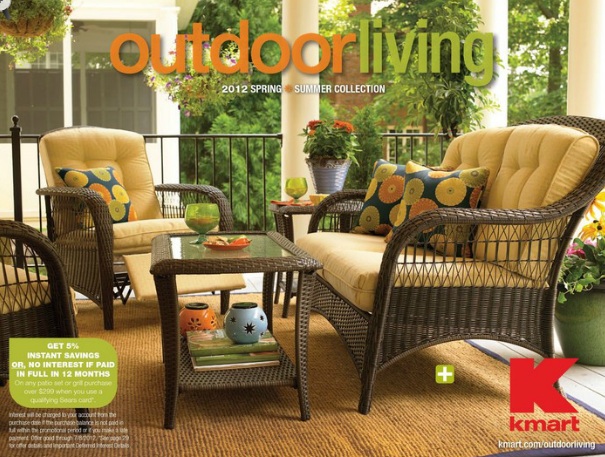 Why the Kmart Outdoor Catalog? From patio furniture, seating sets, lawn furniture and grills, Kmart brings you amazing deals on great brands!
Did you know that Kmart Weekly Deals are online too? We were excited to check these out too! Hop over and check out our G+ photo album for all of the items we fell in love with in the Kmart Outdoor Living Catalog! But first here is our backyard and why we were so excited to browse the Kmart Outdoor Living Catalog …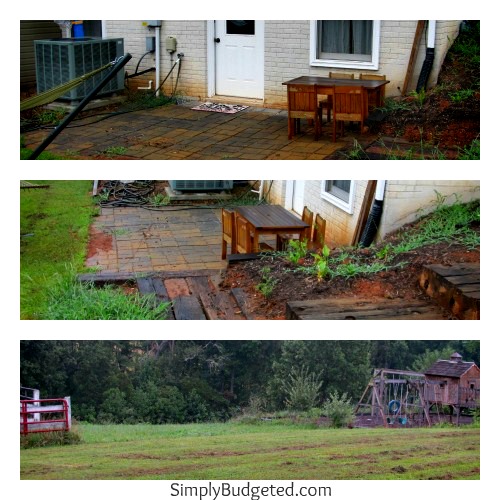 See! We need some help out there. Two years ago, Beth and I put in that patio and the steps … by hand. We haven't gotten around to adding any furniture back there though besides the little kids table that was a gift to the kids from grandparents. Oh and just ignore the weeds, there are not enough motivation anywhere to convince us to get out there when it is 100 degrees every day around here lately!
So this set would be a dream set for us because it room for more than two adults. We could have a nice little gathering out back before we send the kids off to school. Maybe you caught all of the hoses in that picture our patio. Over to the side of the steps, we set-up "water fun" as the kids call it. They love to play in the sprinklers, little pool, and slip 'n slide! A "water fun" party would be a hit not only for our kids but some neighbor kids and church friends too!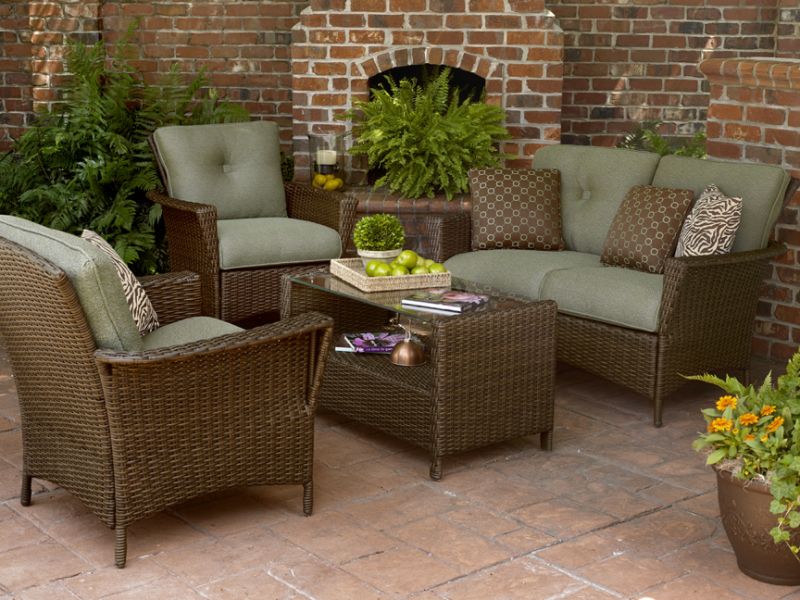 As we kept looking through the catalog, Beth found the outdoor lighting pages and noted her sister would spend hours looking at that page alone. She loves to dream about how to use outdoor lighting!
But I could spend hours on the outdoor grilling pages and trying to determine what grill would work not only for a family dinner but a outdoor summer sendoff party. Matthew would pick hot dogs for the send off meal as that is one of his favorite meals. We might pick grilled chicken, grill corn, and sliced watermelon for the menu though. That still leaves the question of how big a grill do we need versus how big of a grill I want!

Since the garden leads right onto the patio, we found many items that would be great to add to that side garden area too. I think the birdbath is my favorite (I have a thing for birth baths) but Beth really loves that turtle! Maybe it is because she wouldn't have to feed it or watch it or do anything with it!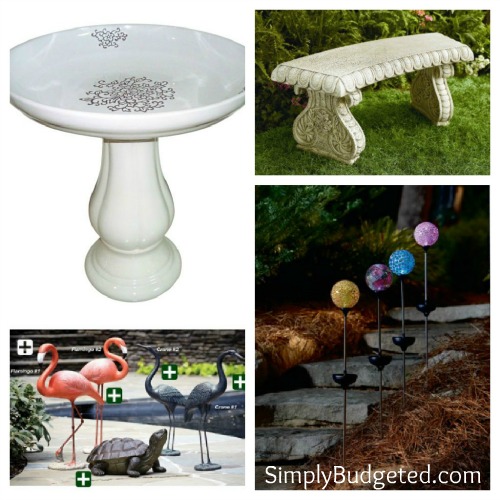 If we continue to dream about our backyard, it is that last picture where our backyard opens into a field. We have spent the last few years taking down a fence that was back there. The kids have an awesome playground back there right now but we call that spot our future pool spot. When we saw this picture in the catalog it sums up part of our dream for the area between the current fence and the playground area. It will be a retreat area where we can enjoy our yard  … don't you want to go sit here with us?!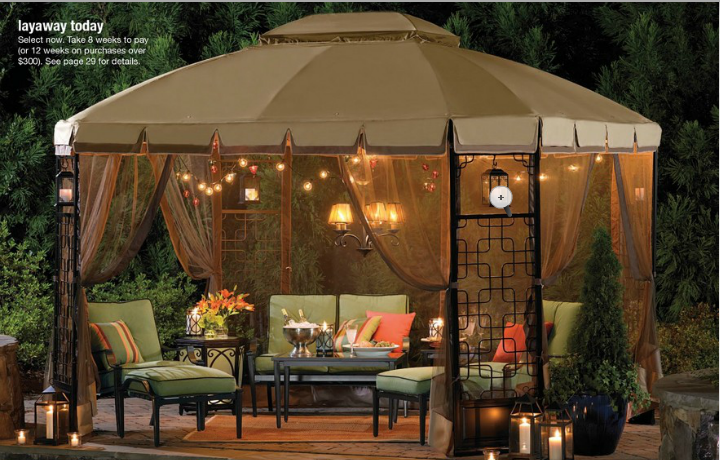 Now we are thinking about how to get a few new patio options to host this outdoor summer sendoff party with lots of "water fun" and grilling! Would you come?
I created a Polyvore board showcasing some our favorite items from the Kmart 2012 Outdoor Living for a Perfect Outdoor Sendoff Party:
You can find the details of these products on this listly List:
[listly id="1YL" theme="light" layout="full" numbered="yes" image="yes" items="all"]
See something you like on our list? Be sure to give it a thumbs up on this #KmartOutdoor list!
If you are big into Social Media, here is a quick check for you! Are you Following Kmart's Twitter? Are you Following Shop Your Way Rewards Twitter? Do you Like Kmart's Facebook?
Don't forget to check out Kmart's Website to keep up with their latest products and sales!
NOTE: I am a member of the Collective Bias™ Social Fabric® Community.  This shop has been compensated as part of a social shopper insights study for Collective Bias™ and Kmart. #KmartOutdoor #CBias #SocialFabric