If you haven't figured it out yet, Grace just celebrated her 6th birthday. She is so excited to be 6 and in 1st grade!!
When she was asked to pick out a party pack for her birthday, I wasn't sure what she would pick. She has so many interests that is always hard for me to guess what she is going to like. We are apparently in a Hello Kitty phase and the Hello Kitty Party Pack for 8 was her pick!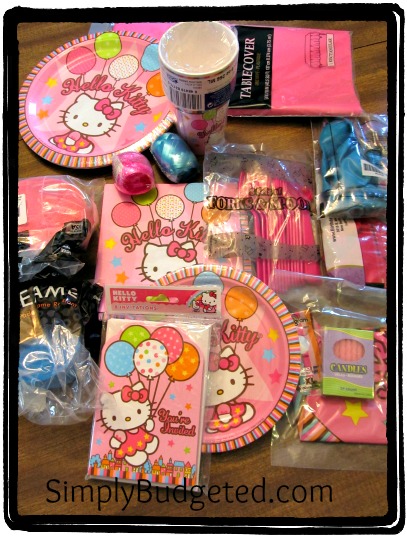 The Hello Kitty Party Pack for 8 included 8 invitations, dinner plates, dessert plates, cups, forks, spoons, 16 napkins, solid-color tablecover, mylar balloon, 12 balloons (2 colors), curling ribbon (2 colors), crepe paper rolls (2 colors), and cake candles!
We decided to take the party pack to my parents' house where we had an early birthday celebrate with them plus my brother, my sister, and brother-in-law! My mom has a favorite cake lady out there and gave her the Hello Kitty napkin to base the cake decoration on. Grace was so happy and you can see how great it all look together!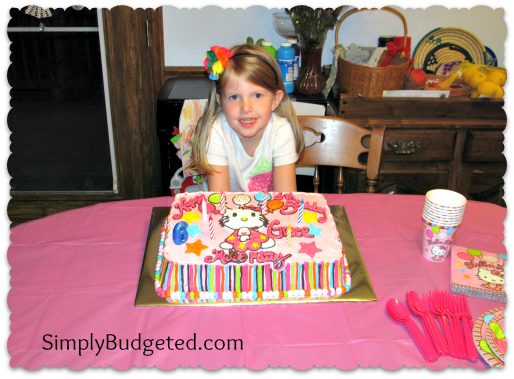 I really loved how easy to order a birthday party pack. I let Grace pick and that was it. I didn't have to add ten items to my shopping cart and still forget something like the candles! The shipping at The Party Works was super fast!
The only problem is that Sophie has already changed her mind twice what she wants for her birthday after seeing all of the ideas at The Party Works! At least I know ordering will be easy come December!!
Would the party pack ordering at The Party Works help you plan a birthday party? Leave us a comment and let us know!