Details …
Buddy, Tiny, Shiny, Don, and their super-sized dinosaur friends from the PBS Kids show Dinosaur Train all star in this BIG activity book inspired by "Big, Big Dinosaur Week" on PBS Kids. It features oversized pages to color, more than 50 stickers, and a built-in handle for carrying on train trips or anywhere else kids ages 3-7 want to go!
Plus …
Look out for the October 11, 2012 release of Buddy's Big, Big Book of Big, Big Dinosaurs from Grosset & Dunlap.  This oversize board book is a great first BIG dinosaur book for children.  Guided by Buddy and his friends, young readers will learn facts about six BIG dinosaurs! For children ages 3 and up; SRP: $9.99.
Our Thoughts …
Little Dude is in a huge dinosaur phase right now. HUGE! So this Big, BIG coloring book was perfect for him. Being a nice brother he shared some coloring with his sisters. Well, he directed and they did some coloring for him. He did do all of the sticker decorating though. As you can tell, all of the kids have really enjoyed this coloring book.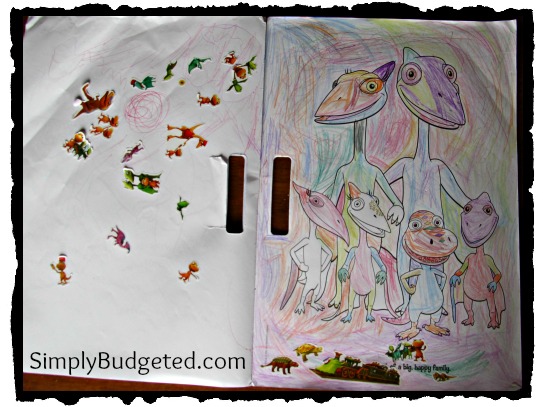 It is great to have the large size coloring books for when they want to do activity time in the living room instead at the dining room table. Now I need brush up my dinosaur names because little dude is starting to correct me when I get them wrong!
We are excited to giveaway a Dinosaur Train: Big, BIG Dinosaurs Giant Coloring Book
to one of our readers! Don't want to wait to win it? Head over to Amazon and find this really great coloring book there!
Good luck in the giveaway!
a Rafflecopter giveaway