We recently had the opportunity to review Simply Potatoes products again with the challenge to make a recipe with them. Now don't get us wrong, there is much love for the cooked up Simply Potatoes hash browns! We had spaghetti squash from our CSA share so it was a great challenge to try to use in our dinner.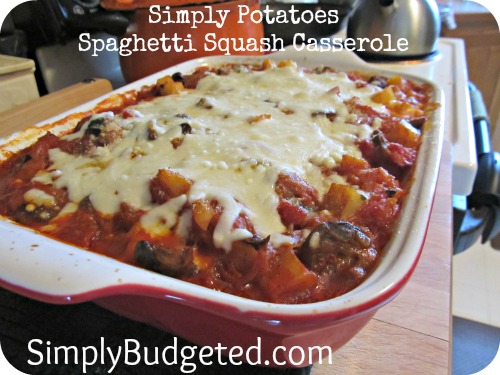 Simply Potatoes Spaghetti Squash Casserole
 Ingredients
1 medium spaghetti squash, halved lengthwise and seeded
4 cups white button mushrooms, sliced
1 medium yellow onion, diced
1 bag Simply Potatoes Diced Potatoes with Onion
1 15 oz. can no salt added tomato sauce
1 28 oz. can diced tomatoes
olive oil
salt
pepper
grated Parmesan cheese
shredded Mozzarella cheese
Directions
Preheat oven to 350 degrees.  Rub squash lightly with olive oil and sprinkle with salt and pepper.  Bake face-down on a rimmed cookie sheet for 30 minutes or until a sharp knife can be inserted into the skin with little resistance.  Set aside until cool enough to handle.  Once cool enough, scrape the insides with a fork into a bowl.  Reserve for later use.
In a medium nonstick skillet, heat oil over medium-high heat.  Add mushrooms and saute until mushrooms are browning, about 10-15 minutes.  Reserve for later use.
In a large nonstick skillet, heat oil over medium-high heat.  Add onion, season with salt and pepper, and saute until onions are translucent and just start to brown, about 3-5 minutes.  Reduce heat to medium and add Simply Potatoes.  Cover and allow to cook for 10-15 minutes, stirring occasionally.  Add tomato sauce, diced tomatoes, reserved mushrooms, and reserved squash, stirring to combine.  Continue cooking on medium until most of the water has cooked out.  Add salt and pepper to taste.
Lightly grease a baking dish with olive oil.  Pour the squash and potato mixture into the baking dish.  Bake, uncovered, at 350 degrees for 30 minutes.  Top with cheeses and bake another 5-10 minutes until cheese is completely melted.
We are excited to offer a giveaway where two of our readers will win four Simply Potatoes free product coupons! Good Luck!
a Rafflecopter giveaway