Can I tell you just how excited I am to spend a weekend up in DC with my honey at a food show?  The weekend of November 3-4, Beth and I are headed up to the Metropolitan Cooking & Entertaining Show in Washington, DC.  They will be featuring at least 8 food celebrities as well as a number of area chefs demonstrating their cooking chops on stage.  They will have tastings and workshops and over 350 vendors scheduled to be there and selling their wares.  Many of these products are ones that you will not find on your supermarket shelves.  If you are shopping for a foodie in your family this Christmas, this would be the place to be.  In addition, Lincoln is supporting Metro Cooking DC and these small businesses by offering test drives out in front of the event.  Everyone who take a test drive will get 10 Lincoln dollars to spend inside.
Last week, I had a great opportunity to attend a media event for this show.  I got to meet the event organizers for Metro Cooking DC, several local bloggers, and the group even got a chance to Skype with Next Food Network Star and "Sandwich King" Jeff Mauro.  This guy is so down to earth, it's ridiculous.  His young son wound up on his back at one point in the interview, knocking his hat off, and pulling out his earpiece.  For a guy with three kids of my own, I looked on it very kindly.  It definitely humanizes this guy that you always see on TV.
In addition to meeting the people at this event, I got to try some of the food at Cuba de Libre, including a yummy Cuban sandwich and a lovely little lobster sandwich.  I also got to try a couple of the signature drinks.  I had a delicious Red Sangria and my favorite, the classic Mojito.  On the way out, we were all handed a very heavy bag full of various products that will be available at the Metro Cooking DC event.  We've tried a number of things, but we haven't even gotten close to going through it all yet.  I'm looking forward to meeting the faces behind all of these wonderful products.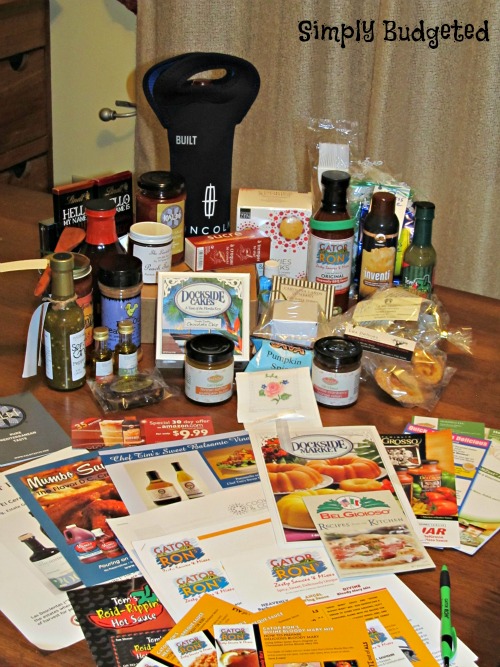 Here's the press release issued for this event.
"ALL STAR LINE-UP H
EADLINE NOV 3-4 METRO COOKING SHOW
Giada De Laurentiis, Jacques & Claudine Pépin, Michael Symon, Carla Hall, Gail Simmons, Tom Colicchio, Jeff Mauro plus James Beard FoundationCooking Stage, 400 specialty food exhibitors set for two-day food extravaganza
(Oct 5, 2012 – Washington, DC) Some of the biggest names in the culinary world will grace the stage at the 2012 Metro Cooking Show, November 3-4 at the Walter E. Washington Convention Center. Headlining this year's show will be Giada De Laurentiis, Jacques Pepin and daughter Claudine, Top Chef judges Tom Colicchio and Gail Simmons, The Chew's Michael Symon and Carla Hall and Next Food Network Star winner "The Sandwich King" Jeff Mauro.
In addition, local and regional chefs all honored as James Beard Foundation winners, nominees or as guest chefs at The James Beard House, will take the Food Lion Cooking Stage honoring the James Beard Foundation. Throughout the two day event there will be non-stop activities including ongoing tasting and entertaining workshops from knife skills to holiday entertaining and a beer, wine and spirits pavilion that will highlight local mixologists  Known as a great shopping show, this year nearly 400 specialty food exhibitors will showcase products – all for sale.
Ticket packages are available including a two-day pass that offers access to all celebrity theater presentations as well as VIP tickets affording meet-and-greet receptions with some of the stars and a lively "Sandwich and Beer" event with "The Sandwich King" Jeff Mauro and Neighborhood Restaurant Group's beer director Greg Engert.
METROPOLITAN COOKING & ENTERTAINING SHOW
Saturday November 3 – Sunday November 4, 2011
Walter E. Washington Convention Center – Washington, DC
Hours: 10 am – 7 p.m. Nov 3; 10 am – 6 pm Nov 4
Ticket prices: General Admission – $24.50 in advance; $27 at the door
Children 4-12 – $12.50 in advance; $15 at the door
Children under 4 free
 www.MetroCookingDC.com"
Are you going to be up in DC that weekend?  Looking to head out to the show?  Let us know and we'll look for you!