Maybe you aren't a blogger but you have a business or maybe you have something you love to say. Just Jen is place to start looking. You may remember the 6th birthday shirt I feature earlier this year. I was beyond excited when Just Jen offered me a blogger shirt for the Metro Cooking Show in DC. So here is the shirt I wore the first day …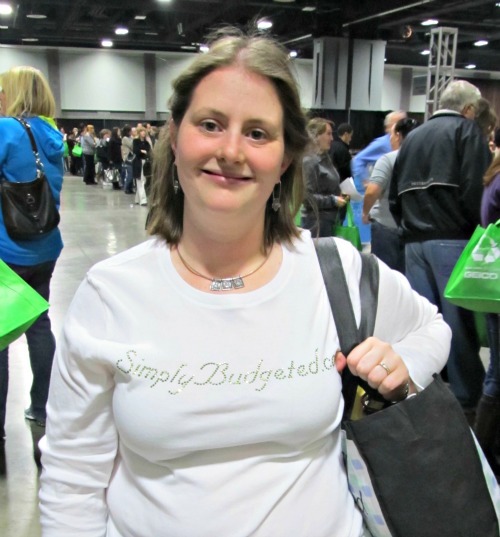 I would introduce myself to businesses and they would repeat "Simply Budgeted" then look at my shirt and say "oh Simply Budgeted". I honestly have no idea why it made sense when they saw my shirt but I loved that it made a connection for them, who knew that was possible with a shirt?
Another picture of me wearing the shirt shows the side a little better …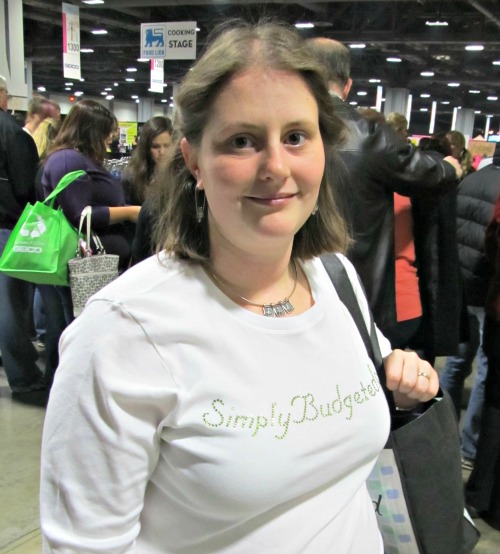 Overall, I love this shirt. I will admit I didn't wear it at all until the event. I was afraid I would mess it up. Then I went to a food show and got it dirty. I can tell you though it came nice and clean in the wash. I have a feeling this shirt will get a lot of wear around town which will be a big step for me since I don't generally wear anything that Simply Budgeted on it. I can't leave this shirt in the drawer though … it must be worn!
What do you think? Did I do good with the green letters on the white shirt? What shirt would you pick? Well it is your lucky day! I have been offered a giveaway to our readers so good luck picking a shirt you love! The giveaway is for one Just Jen shirt with a custom or existing design, excluding custom logos and hoodies!