As the year gets ready to come to a close, it's almost time to start gathering all of your tax documents together for 2012.  This past year has been pretty rough for a lot of people.  I, for one, really hope to get a return this year, but we expect that it will probably be a bit less than in years past.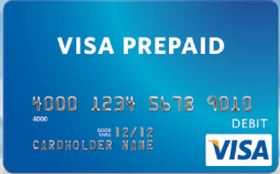 If you are also expecting a return, the big question on your mind will be, "What am I going to do with it?"  Are you going to take the family for a vacation?  Maybe you could save it for "Back to School" shopping?  How about saving it up for next Christmas?  A couple of years ago, Beth and I used ours to pay for a major landscaping project.
The big problem with having plans for your tax return is that most people deposit their returns directly to their checking accounts.  When this happens, you tend to think of the money as just there to use.  The idea of using it in the future is easy to forget about in the short-term.  Even a deposit into your savings account is easy to take advantage of because of the ease of online account transfers.
Have you ever considered putting your return on a Visa Prepaid Card?  Think about it.  You can deposit the money on the card, put it in a safe or in the back of a desk drawer and, really, just forget about it until it's time to use it.  You can just go about your monthly budget without having to consider all of the extra.
Imagine how great it would be to have your summer vacation paid for.  When Beth and I used a card for our landscaping project, it actually helped us budget because we knew that we didn't have any extra after the card was empty.  Plus, because of Visa's "zero liability" policy, your tax return is completely safe, even if the card is lost or stolen!
Now, here's the really good news!  To help people get ready for tax season, Visa has created the Know Your Numbers instant win game.  You can play for a chance to win a tablet PC or a $15 Visa Gift card and learn about the importance of knowing your accounting and routing numbers. Also, every game play gives you a shot at winning the grand prize:  a $2,000 Visa Prepaid Gift card! Click Here to check it out!
What do you plan to do with your tax return this year?  Are you going to load it onto a Visa Prepaid Card?
I am blogging on behalf of Visa Prepaid and received compensation for my time from Visa for sharing my views in this post, but the views expressed here are solely mine, not Visa's. Discover more at http://www.VisaPrepaid.com or join the Visa Prepaid community at http://www.facebook.com/VisaPrepaid.