This is post will feature Maison Le Grand, the fifth of final finds that we will feature from the DC Metro Cooking Show back in November! Watch this week for ALL of these finds as they might make a great Valentine's gift for your love or even your kids … or maybe a teacher … or even yourself!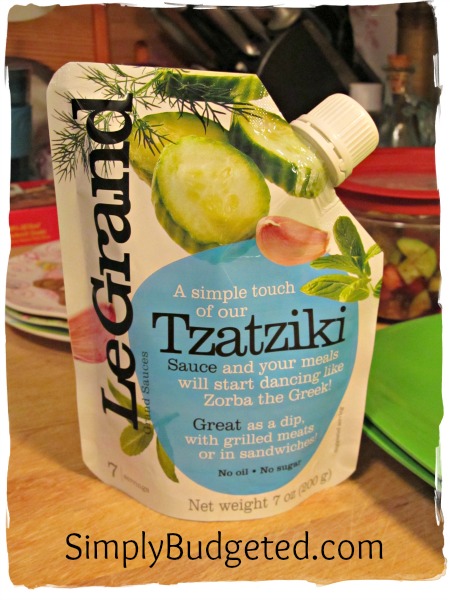 Details …
La Maison Le Grand is a leader in the production of cold-processed sauces. Our products are inspired by both the gourmet quality of fine European cuisine and West Coast influence on healthy, natural foods. We combine tradition and innovation. Our motto is: "artisans of the third millennium!"
Their products include Garden Pesto, 4 Nuts and Cheese Pesto, Sun-dried Tomato Pesto,  Roasted Red Pepper Pesto, and Tzatziki!
Our Thoughts …
We had the opportunity to try several of the Le Grand products. Beth loved the Sun-dried Tomato Pesto. The kids found the Tzatziki to be a great dip for a veggie tray! But I had to make something. I made several dishes with these product but the everyone really loved the last minute Mozzarella-Pesto Pizza I made one night!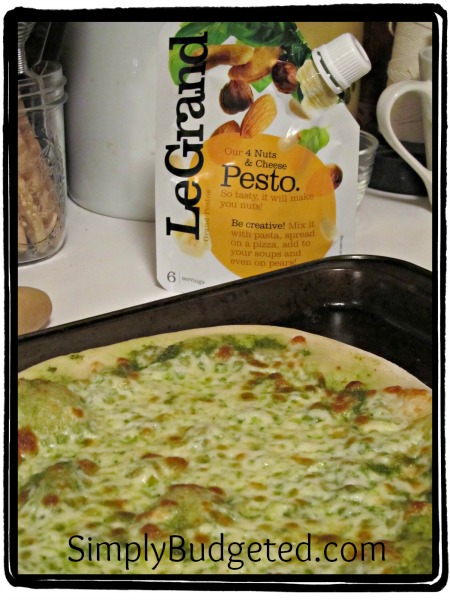 Mozzarella-Pesto Pizza
Ingredients
1 ball of pizza dough (we used store bought)
1 Le Grand  4 Nuts and Cheese Pesto
Shredded Mozzarella Cheese
Directions
1. Roll out the pizza dough and place it on a slightly oiled baking sheet.
2. Put a thin layer of the Le Grand  4 Nuts and Cheese Pesto. (You won't use the whole package!)
3. Sprinkle with cheese. If Beth is at your house, double the amount of cheese as she loves anything extra cheesy!
It doesn't get any easier than that for a quick at home dinner. You would pay a lot for a pesto pizza at a restaurant and it probably won't taste as great! Check out Le Grand's link on Where to Buy? their products to find it in a store near you! If you are into Social Media, you can find Maison Le Grand on Facebook and Twitter to keep up with their latest recipes and products!
Have you tried Le Grand products yet? Would your family enjoy the Mozzarella-Pesto Pizza? Leave me a comment and let me know!