When we agreed to review the Living Accents Folding Adirondack Chair found at ACE Hardware, we weren't sure what we agreeing to be honest. Brian went to pick it up at Gary's Ace Hardware in Culpeper, VA (find them on Facebook HERE)  in our little Honda Civic since the girls and I were manning a Girl Scout Cookie Booth that day. They came by the booth and I thought he didn't get the chair. I didn't expect it to be in a small  (yet heavy!) box! We had planned a movie night for the kids that night since it was cold and snowy outside. What did Brian decide to do? Build the Living Accents Folding Adirondack Chair of course. But it was cold, dark, and snowing outside and kids had taken over the living room! So where did he build this Folding Adirondack Chair? Our bedroom of course …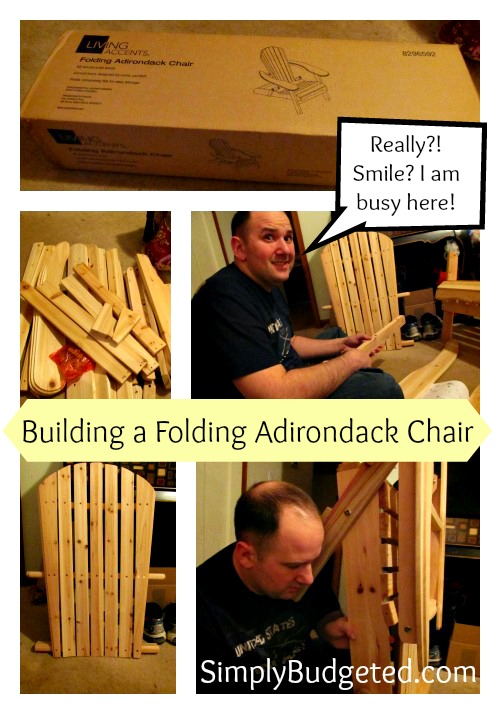 The chair went to together really fast and was done  built by the time the kids' movie was done. I was impressed with how quick that pile of boards became a chair. Ta-da!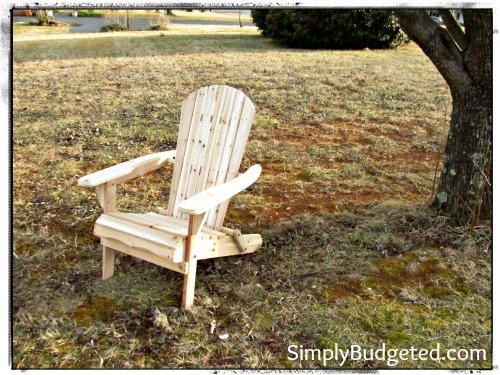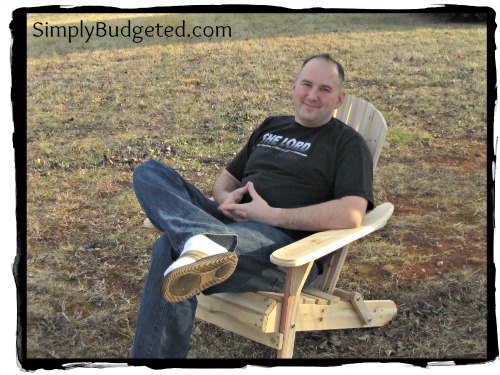 The best part of this chair for us is the folding aspect. Since we do get some crazy weather around here in Virginia, it will be nice to put this chair up in the winter to help keep it in great shape. We are still debating on the best location for this chair but I have a feeling it might end up under the willow tree out back facing the playground. I can already see coming home from work this summer to the kids on the playground and Brian in this chair with his glass of sweet tea and a book reading in the shade.
Now the real debate is how to finish the chair. I wanted to stain it at first to bring out the beautiful wood. Brian is voting for paint though. I said if we go for paint that we need to pick a bold color like red or orange … or maybe I can convince him to a VA Tech color scheme of orange and burgundy! What do you think? Stain or paint? Leave us a comment and let us know what you think!
(We will update later this year when it warm enough for paint to actually dry in a reasonable amount of time!)