We had the opportunity to take the kids to Richmond, VA to the LEGO KidsFest this past weekend. We were surprised by the traffic getting to the convention center but we made it and found parking in the one parking garage I know from Brian's Richmond Half Marathon runs. We were right next to the Convention Center so the walk was easy with the kids. We noted that this was one of first no stroller events so that was exciting for our family of five!
The kids loved the large LEGO statues that were positioned around the hall. Grace touched all over the Friends statue to see that it was little LEGO bricks. She loved the puppy dog!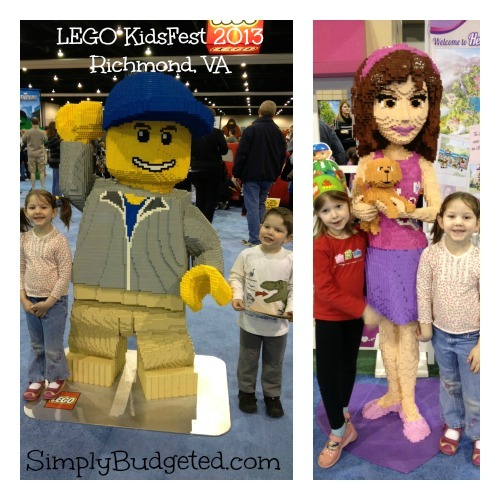 The hands on portion of the LEGO KidsFest was really great for the kids. Grace is our oldest and is 6.5 years. Brian and I decided she is just below the prime demographic of the event. She had fun, as did the other kids, but we saw that 7 – 9 year olds that LOVE LEGOs were the ones that were totally in their element at the event. The favorite spot for all of the kids was the DUPLO section which was a surprise. I thought the girls would the love the FRIENDS area but I think it was too busy for them. Matthew found the animals and the girls love the princess area in the DUPLO area. This section was less crowded so we let them play in this area twice!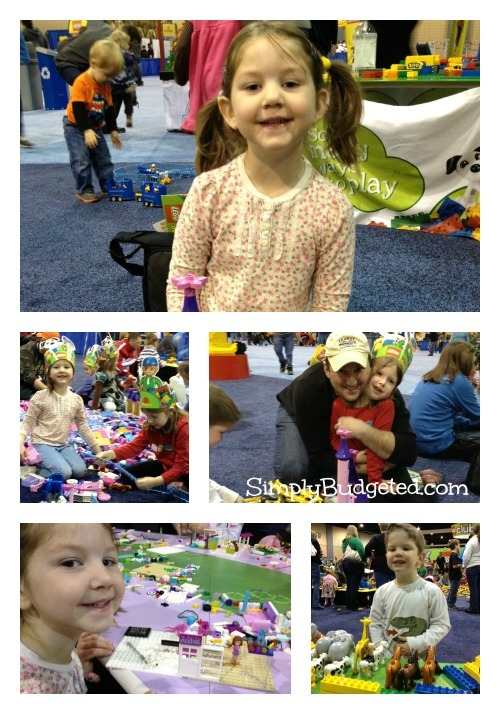 The store at the event was so busy. We let the kids look but when saw the line was over at thirty minutes long to buy items, we told them they could use their spend money at Walmart to buy LEGO sets, which they did later that day. I know they were a bit bummed over this as were we but standing that long in the line seemed to miss the purpose of the trip and the event for us.
We knew it was time to leave when Matthew broke down in the DUPLO area over sharing his pile of animals with another little girl. He just wanted ALL of the animals he could find. He was in love with the animals. We made the right call because he was happy to to get the van and rest with his snack. As a demonstration of their love of the event, the girls wore their hats all the way home. They loved those hats so much that we had convince them they couldn't wear them on the cold, windy afternoon at the Girl Scout cookie booth!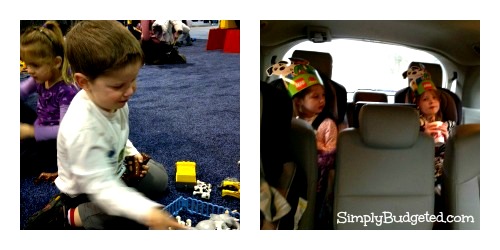 The kids really enjoyed this event. We would take them back for sure and I think at that point they would enjoy it even more! Check to see if the LEGO KidsFest is coming to a town near you!
Have you ever been to a LEGO KidsFest event? What is your favorite LEGO series? Leave us a comment and let us know!