Happy Valentine's Day!!  Can I just tell you that it has been a very long Beth Week.  Our 10th wedding anniversary was on Sunday, Beth turned 24 again on Tuesday, and today is Valentine's Day.  After a week of planning surprises and special stuff for my sweetie, I am just a wreck!  Still, I didn't want to just phone it in for Valentine's Day.  Thankfully, International Delight Light Iced Coffee was here to help me make a velvety, luscious tiramisu for my darling while saving me a little extra effort.  Together, we not only lightened up the effort; we lightened up the whole dessert!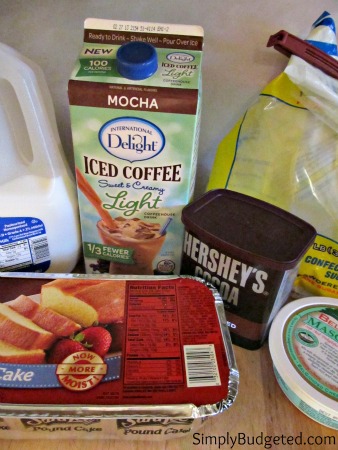 Just because we are watching what we are eating doesn't mean that we can't enjoy a little treat from time to time.  Still, we do have to watch what we are putting into it our desserts.  The International Delight Light Iced Coffee help me to make a pretty quick take on tiramisu with a little bit of calorie savings as well.  On top of that, if you are a regular reader, you know that Beth is not overly fond of coffee of any sort.  So, while the texture of tiramisu may be something that she can get into, the flavor, even the smell, has always turned her away from it.  With that in mind, I picked the Mocha flavor and integrated that into the marscapone cheese so that we got barely a hint of the coffee, just enough to enhance the chocolate throughout the rest of the dish.
And yes, there is plenty of chocolate.  In addition to the mocha in with the marscapone, I added a fair amount of cocoa powder and then whisked it until it was light and fluffy.  I also made a double strength hot chocolate, sweetened with a little powdered sugar.  I drizzled that over cubes of pound cake (not lady fingers, I know, but trust me, you won't put this down!).  I topped the drizzled pound cake with marscapone mixture and grated some dark chocolate right on top.  Beth could hardly taste the coffee flavor and definitely was not turning down a second bite!  For me, I was in heaven with a great big serving of the tiramisu and a glass of the International Delight Light Iced Coffee over ice.  YUM!!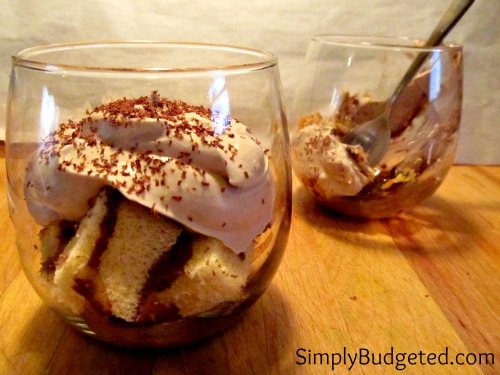 Individual Mocha Tiramisu
Ingredients
1 cup milk
9 Tbsp cocoa powder, divided
3 Tbsp powdered sugar
8 oz marscapone cheese
1/2 cup Mocha Flavored International Delight Light Iced Coffee
1 lb frozen pound cake, cut into 1/2 inch cubes
dark chocolate squares for grating 
Directions
Heat milk over medium heat.  Add 6 Tbsp cocoa powder and whisk until completely combined.  Turn off heat and allow to cool completely.  Once cool, stir in powdered sugar until completely dissolved.  Pour into a container and refrigerate until ready to use.
In a large mixing bowl, combine marscapone, coffee drink, and 3 Tbsp cocoa powder.  Whisk until thoroughly combined and continue whisking until the mixture begins to thicken, resembling a thick whipped cream.  Scoop into a container and refrigerate until ready to use.
To assemble:  Add pound cake cubes to an individual serving bowl or glass.  Drizzle chocolate mixture over the pound cake.  Top with marscapone mixture.  Grate dark chocolate over the top.  Dig in and enjoy!
Are you a fan of International Delight products?  If not, why not?  If so, make sure that you join them on Twitter and Facebook for all of the latest updates. Check out our full shopping experience over in our Google + Album.
Do you enjoy tiramisu?  Give this version a try and tell us what you think?  What tips do you have for making a special dessert without all of the fuss?  Leave us a comment and let us know.
I am a member of the Collective Bias®  Social Fabric® Community.  This content has been compensated as part of a social shopper insights study for Collective Bias® and White Wave.  All opinions expressed are my own. #cbias #SocialFabric