We had more snow Sunday night into Monday. It is mostly gone now. You can still see it high up in the mountains which is beautiful. One day I will have the opportunity to get pictures of the views we see daily around here. Until then, you are stuck with views of our yard … which is still beautiful.
So this picture was sent to my mom to show her the snow was sticking the road … again. The farmer in his big ole John Deer tractor had plowed our street once that morning.
This picture was out back and I sent this one to my mom too. I asked her if I had moved to Ohio and hadn't noticed.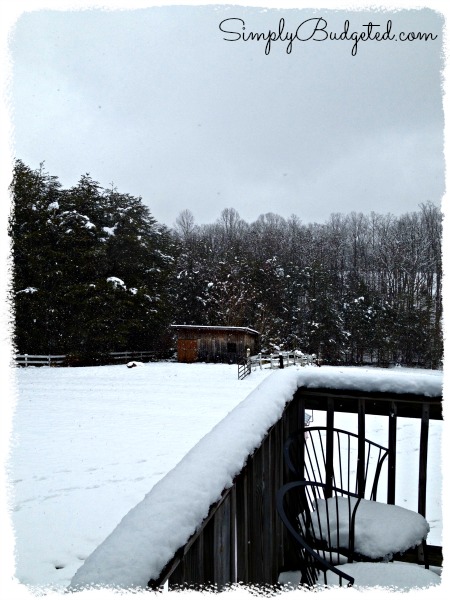 We grew up going to Ohio every Christmas to visit family. As kids we LOVED to find snow in Ohio as we didn't get that much snow here in Virginia.  Maybe you caught snow post one and snow post two here this month. Three snows that closed schools in March is a big deal around here. We often get snows in March but normally it is one … I think maybe winter is done now. Maybe?
I do have to say for the first time EVER I feel like the kids snow boots had some actual use in the winter time!
Are you enjoy the late Winter or are you ready for Spring? Leave me a vote and let me know!