Do your kids pick out their own clothes each day? I admit that ours do end up with coaching some days (such as Sundays for church) but there are days that Grace has worn a fancy dress to first grade for no reason at all besides that she what she picked out to wear. Matthew who is three has been watching his big sisters pick out clothes for school all year. I always picked out his clothes and would bring them downstairs to change him the next day. Last week he decided to start picking out his own clothes for school. Sure they don't really match most of the time but he is three and he is picking out his own clothes … way to go little man! He knows he needs a shirt, pants, underwear, and socks. He is learning to get it all by making a few trips up and down the stairs but he is learning and he is making his own decisions.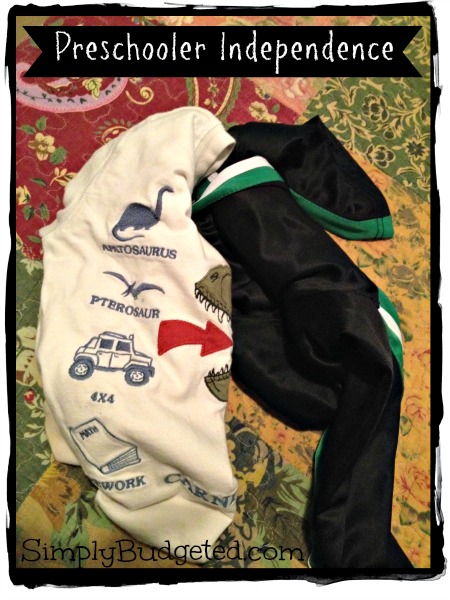 It might seem like a little thing that he is picking out his own clothes but it is a huge step for him … especially without encouragement but just the example from his big sisters. I love to see him learning and growing. Maybe one day his clothes will match better but for now, I am learning to be excited in his choices. Sophie has taught me that what I define as matching clothes doesn't match her definition of matching clothes this school year. It was hard for me to accept but once I confirmed that her preschool teachers knew she picked out her own clothes and I wasn't insane I accepted her decisions.
Preschool independence might be a dinosaur shirt with black play pants but you know what … they are pants and long sleeves and we still have winter weather here in Virginia so I am not complaining.
What does preschool independence look like at your house? Do your kids pick out their own clothes and define their own style? Leave me a comment and let me know and learn from you!