We are excited to feature a review of Doc McStuffins: Time For Your Checkup!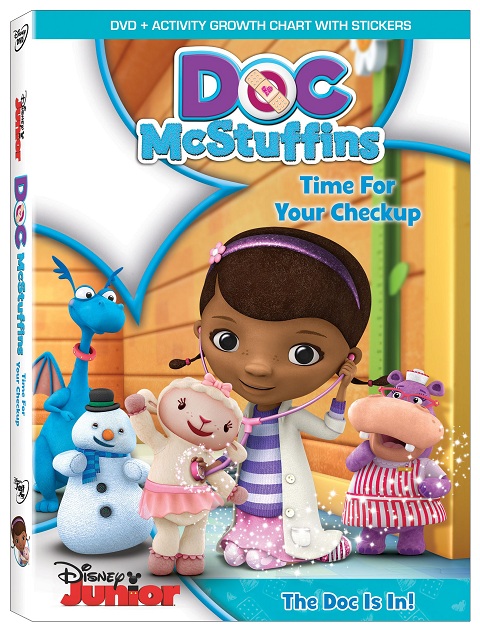 Details …
 Get ready to start your day in a wonderful way! Doc McStuffins: Time For Your Checkup is all about helping to keep toys – and little ones – happy and healthy. Join Doc and her trusty team of lovable toys as every new checkup leads to miles of smiles. Laugh along when Doc cures Gus the Gator's "Stuffedfulliosis." Blast off with Star Blazer Zero as Doc shows him how to play it safe from launch through landing. Whether it's eating right, getting enough rest, or getting an annual physical check-up, this delightful and nurturing program combines music, humor, and surprises in five fun-filled adventures that inspire friendship, hugs, and stay-healthy habits every day!

Episodes Include …


1 – Gulpy, Gulpy Gators! / One Note Wonder

2 – Tea Party Tantrum / Blast Off!

3 – Arcade Escapade / Starry, Starry Night

4 – Bronto Boo-Boos / Brontosaurus Breath

5 – Doctoring The Doc / Hot Pursuit

Our Thoughts …
Sophie is our Doc McStuffins fan. When I asked her if she would like to see a Doc McStuffins DVD, she jumped up and down! She was excited to see this DVD come in the mail. It has allowed Brian to have a few afternoons of peace to take and edit pictures for both here and This Cookin' Dad.
I asked Sophie which episode of Doc McStuffins was her favorite and she said "The game one". This is the Arcade Escapade episode where Doc McStuffins, the dad, and the boy go to the game place … according to Sophie that is! I followed up by asking her why she likes Doc McStuffins and she said "I like that she is a doctor and fixes people." Sophie loves to play like Doc McStuffins does with her stuffed animals.
If asked Sophie to get a couple of her favorite DVDs right now, this would be one of her favorites for sure!
Doc McStuffins: Time for Your Checkup
is a great price on Amazon right now with Prime!